Press release
Extension of oyster herpesvirus disease controls in Kent
The confirmed designation for oyster herpesvirus microvariant in Kent has been extended after shellfish tested positive for the disease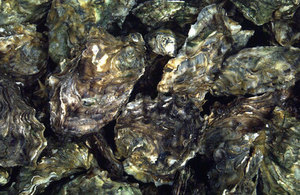 In August the Fish Health Inspectorate (FHI) collected Pacific oyster samples from the north coast of the Isle of Sheppey, in Kent. This location was between two existing disease control areas. The samples tested positive for oyster herpesvirus microvariant (OsHV-1µVar).
The two existing disease control areas, in Kent and Essex, have been extended and merged into a new control area. This revised area now covers the coast from Colne Point, Essex, to the southern extent of Pegwell Bay, Kent.
Movements of Pacific oysters are restricted in this area to prevent the spread of the disease. You must also:
apply to the FHI to move Pacific oysters out of the confirmed designation area. This includes movements into purification centres (also called depuration plants)
report any increased or unexpected mortality in shellfish stocks to the FHI
Other control areas in England and Wales for oyster herpesvirus include:
Poole Harbour, Dorset
River Teign, Devon
Oyster herpesvirus is a viral disease that affects Pacific oysters and can cause high rates of shellfish mortalities.
There are no implications for human health.
Additional notes
Cefas is an executive agency of the Department for Environment, Food and Rural Affairs (Defra). The Fish Health Inspectorate (FHI), based at Cefas' Weymouth laboratory, is dedicated to maintaining and improving fish and shellfish health in England and Wales. Its primary role is to act for Defra and Welsh Government (WG) in undertaking statutory and inspection duties resulting from the EU fish health regime and other national legislation in the area of fish and shellfish health. The FHI is responsible for health certification of fish and shellfish movements from other countries, and runs an enforcement programme aimed at preventing the illegal importation of these animals.
Oyster herpesvirus-1 microvariant (OsHV-1 µVar) is a notifiable disease under the Aquatic Animal Health (England and Wales) Regulations 2009. Outbreaks of this disease have been subject to statutory control in Great Britain since 2010.
CD23/2015, issued under the Aquatic Animal Health (England and Wales) Regulations 2009, restricts the movement of live shellfish, into and out of the designated area without the prior written consent of the FHI. It also applies additional specific biosecurity measures. Further details of all confirmed designation are available.
Published 11 October 2016