Press release
Extended Sunday trading due in the autumn
The government is to hand local authorities the power to extend Sunday opening hours.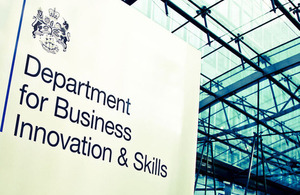 Local high streets will be given the green light to go head to head with online retailers with new powers to allow local councils to extend Sunday trading hours expected to be introduced in the autumn.
The government is introducing amendments to the Enterprise Bill today (9 February 2016) to hand local authorities the power to extend Sunday opening hours.
As part of the plans to give local authorities powers to extend Sunday trading hours, local retailers will have the flexibility to seasonally adjust hours to enable them to better compete for trade. Last year, internet retailers accounted for 13.8% of all retail spending in December 2015.
The ability to seasonally vary Sunday trading hours will also mean that high streets can take advantage of increased tourism opportunities enjoyed by countries which have already extended Sunday trading hours. According to Visit Britain, in Sweden full deregulation has increased turnover by 5%.
Business Minister Anna Soubry said:
Extending Sunday shopping hours has the potential to help businesses and high streets better compete as our shopping habits change.

The rights of shop workers are key to making these changes work in everyone's interests. We are protecting those who do not wish to work Sundays, and those who do not want to work more than their normal Sunday working hours.
This is part of a package of measures to devolve Sunday trading laws to Local Authorities allowing councils to 'zone' any relaxation so they will be able to prioritise high streets and city centres.
The measures also include greater freedoms for shop workers in England, Scotland and Wales to 'opt-out' of working Sundays if they choose to, for example because they object on religious grounds or for family reasons.
Shop workers will now be able to give just 1 month's notice to large shops that they no longer want to work Sundays, down from the previous 3 months, and will have a new right to opt out of working additional hours. The government will also strengthen the duty on employers to notify employees of their rights about working on Sundays.
The plans are supported by councils, leading retailers, and business leaders.
Published 9 February 2016