News story
Digital technology for healthcare: apply for funding
Up to £8 million is on offer for UK businesses to work on innovation projects that tackle the biggest healthcare challenges.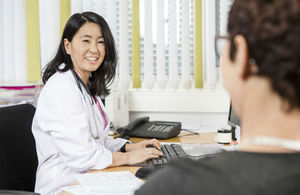 To support a growing, ageing population, Innovate UK is making up to £8 million available to UK businesses to develop new and novel digital healthcare solutions.
This competition is being run under the digital health technology catalyst, which is part of the Industrial Strategy Challenge Fund. The aim is to support the development of digital health products that meet NHS needs. It is a new £35 million funding programme over 4 years.
Impacting delivery and patient outcomes
Digital health promises to have a profound impact on the approach, delivery and administration of healthcare, for the benefit of patients.
We are seeking feasibility or development projects that advance digital health or digitally-enabled medical technologies. These should:
improve patient outcomes, such as through better clinical decision-making and supporting them to manage their own care
offer new approaches to healthcare that transform its delivery
reduce the demand on the health system, make it more efficient and create savings
Competition information
the competition opens on 31 July 2017, and the deadline for registrations is 4 October 2017
feasibility studies can range from £50,000 to £75,000 and last up to one year
industrial research and experimental development projects can range from 500,000 to £1 million and last up to 3 years
you can work alone or in collaboration with other organisations, but projects must be led by a UK-based SME
you could get up to 70% of your eligible project costs
projects must start by 1 February 2018
Published 28 July 2017