News story
David Cameron meets Norwegian Prime Minister Erna Solberg
Prime Minister David Cameron and Norwegian Prime Minister Erna Solberg met today in 10 Downing Street to discuss energy and security.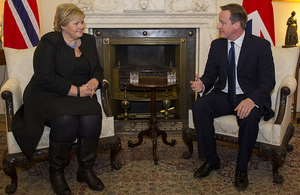 A Number 10 spokesperson said:
The Prime Minister met Norwegian PM Erna Solberg on her first official visit to the UK since her election last year. They agreed on the value to both countries of the close and deep co-operation between Britain and Norway, especially on energy and security. They agreed that the energy relationship was of vital importance to both countries and discussed the possibility of additional Norwegian investment in the UK renewables sector, and the proposed North Sea electricity connector.

They also agreed on the importance of a more competitive EU, and safeguards for EU and EEA countries outside the euro as the Eurozone pursued further economic and financial integration.

They welcomed the new bilateral cooperation on counter-terrorism that had been developed since both countries suffered losses in the In Amenas attacks, and agreed to further dialogue on the proposals in the UK's Extremism task Force.

They also discussed the importance of a political transition to end the conflict in Syria and to tackle the rising humanitarian and extremist concerns there. They discussed shared priorities on development and the future MDGs, especially the importance of empowering women and girls.
Published 15 January 2014