Press release
Councils given greater freedom to clamp down on road works disruption
Road works permit schemes give local authorities power to control when and how utility companies dig up their roads.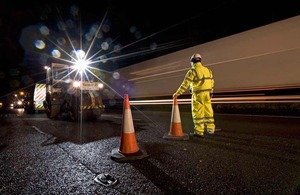 Councils will find it easier to tackle disruptive road works thanks to changes announced by Local Transport Minister Norman Baker.
Road works permit schemes give local authorities power to control when and how utility companies dig up their roads. They also allow local councils to set conditions on the length of time it will take utility companies to complete the work and the amount of road space to be left available for road users. Companies who work without a permit or break the conditions are fined.
Where they have been employed, permit schemes have been effective in reducing the time taken to complete works, reducing inconvenience for motorists and businesses alike. In the first year of Kent County Council's permit scheme operation, highway occupation was reduced by the equivalent of 6 years, equating to a reduction in disruption of 5%.
Currently councils wanting to introduce a permit scheme need approval from the Department for Transport. Following consultation, this requirement will be removed to give councils more freedom in reducing congestion and making it easier to put new permit schemes in place.
Local Transport Minister Norman Baker said:
Road works may be necessary, but it can be incredibly frustrating for people when they get stuck in traffic jams. These changes are about making it easier for councils to introduce permit schemes and co-ordinate works on their roads.

Encouraging more councils to develop these schemes will help reduce disruption and irritation for motorists and local residents - a win-win for the travelling public.
Under the new plans, councils will still need to comply with the law on the penalties and requirements they can impose on utility companies when operating a permit scheme. The changes will give them greater freedom to introduce schemes in their local area.
As well as removing the requirement to seek departmental approval, new guidance on permit schemes has also been produced. This has been issued to all chief executives to help local authorities develop and run permit schemes - clarifying the focus and scope for future schemes.
The department also asks all authorities who introduce a permit scheme to publish a transparent evaluation after a year of operation, showing how it is delivering against its published aims.
Notes to editors
Street works permit schemes are currently in place in over 50 authorities. Kent, London, and Northamptonshire have been in place for over a year, so have already provided a 12 month evaluation of their scheme.
A council running a permit scheme is able to charge companies for providing a permit, although this charge can only cover the costs of administering the permit scheme and should not result in a surplus.
Permit schemes also require local authorities to treat their own works in the same way as those of utilities.
It is a criminal offence to work without a permit. The maximum fine is £5,000. It is also an offence to not meet a permit condition, for which the maximum fine is £2,500.
Fixed penalty notices, as an alternative enforcement mechanism, can instead be given for working without a permit or not meeting a permit condition.
Local councils are responsible for designing and consulting on their own scheme and from 2015 at the earliest, will be able to introduce the scheme to their own timetable under their own powers.
This will be brought forward through primary legislation when a suitable legislative opportunity arises.
Under current legislation, permit schemes in England can be implemented only with the approval of the Secretary of State for Transport.
Councils in England have been able to apply to the Department for Transport to run their own road works permit schemes since the relevant Regulations came into force in April 2008.
New guidance for future permit schemes for street works.
Response to the consultation on permit schemes for street works.
Press enquiries: 020 7944 3066
Out of hours: 020 7944 4292
Public enquiries: 0300 330 3000
Published 23 January 2013