News story
Consultation on prescription drug tramadol
The government wants to make tramadol a Class C drug but ensure it is available to those who need it as a prescription medicine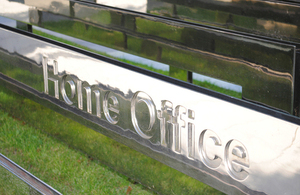 Crime Prevention Minister Jeremy Browne launched a consultation today (22 July), in conjunction with the Department for Health, on access to tramadol.
Misuse
It follows a recommendation by the Advisory Council on the Misuse of Drugs (ACMD) to control tramadol as a Class C drug, based on concerns about the misuse of the prescription medicine.
The number of deaths involving tramadol has risen from 83 in 2008 to 154 in 2011.
The government has accepted the ACMD's recommendation to make tramadol a Class C drug subject to a public consultation to ensure those who need it as a prescription medicine will still have access to it under a process known as scheduling.
Crime Prevention Minister Jeremy Browne said:
Tackling drug misuse is a key priority for this government.

I am grateful for the advice from the Advisory Council on the Misuse of Drugs, in light of growing concerns around tramadol misuse.

While tramadol will continue to be available under prescription for those that need it, placing it in a schedule will mean access to the drug will be appropriately restricted.
The ACMD recommended placing tramadol in Schedule 3 of the Misuse of Drugs Regulations.
Schedules
There are five schedules, with Schedule 1 containing the most restricted drugs considered to have little or no medicinal use, such as LSD or ecstasy. Schedule 5 contains drugs available as over the counter medicines.
Drugs in Schedule 3 can be prescribed and legally possessed and supplied by doctors and pharmacists. They have to be stored in safes meeting minimum standards set out in law.
The 12-week consultation can be completed online.
The deadline for responses is 11 October 2013.
Published 22 July 2013