Press release
Consultation launched to transform land registration
Proposals to help Land Registry deliver more efficient and modern services were put forward for consultation today (23 January 2014).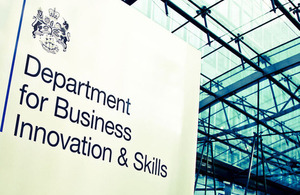 Proposals to help Land Registry deliver more efficient and modern services were put forward for consultation today (23 January 2014) by Business Minister Michael Fallon.
Land Registry is responsible for keeping and maintaining details of the ownership of land and property in England and Wales.
Government believes that changing Land Registry's commercial model by separating policy and delivery of services between 2 entities could have a number of benefits and enable it to move more successfully into the digital age.
The proposal is to create a new company, still subject to government oversight, which would be responsible for delivering land registration services. A separate Office of the Chief Land Registrar would be retained in government to carry out regulatory and fee-setting functions.
This model could allow a greater focus on service delivery, greater operational flexibility around pay and recruitment, and provide other services along with a more clearly defined relationship with government.
Land Registry is currently moving into a new phase as it embarks on a new Business Strategy designed to deliver significant benefits for customers, including:
making more land registration services available online, this should reduce processing times, risk of error and the costs of registration
delivering more efficient services, including creating a centralised access point for local land charge searches
maximising the reuse of property data for the benefit of the economy
As Land Registry moves into this new phase, it is critical that the business has the right commercial model to best deliver these benefits to its customers and the wider economy.
Business Minister Michael Fallon said:
Land Registry continues to be a cornerstone of property ownership and undertakes a range of functions and responsibilities, which are critical to the property market.

Giving Land Registry more flexibility to operate in the modern world will enable them to become a leader in digitising land and property services and support economic growth in the wider economy. We welcome views from all interested stakeholders to help us shape the future of land registration services.
Chief Land Registrar and Chief Executive of Land Registry Ed Lester said:
Our business strategy is ambitious but achievable as we aim to improve land registration services and play a wider role in the property market.

The strategy was created around customer needs, the changing face of the property market and our ambition to become a leader in digital land registration services. By focusing on our customer needs, we will continue to improve our service delivery and make the process of dealing in land and property more efficient.
No decision on ownership and control of this new service delivery company has been made, and several options are being considered. The government will ensure that Land Registry customers and the integrity of the register will continue to be protected following the outcome of the consultation.
The consultation will run for eight weeks and will close on 20 March 2014.
Notes to editors
You can read the consultation at Land Registry: new service delivery company

You can read more about Land Registry's Business Strategy in their Annual Report and Accounts 2012/13

Land Registry plays an essential role in the property market and is responsible for processing the registration of title to land in England and Wales under the Land Registration Act 2002.

The service delivery company would be responsible for the processes relating to land registration and would be the primary point of contact for customers whereas the Office of the Chief Land Registrar would primarily perform regulatory and fee-setting functions to ensure that customers' interests continue to be protected.

The government's economic policy objective is to achieve 'strong, sustainable and balanced growth that is more evenly shared across the country and between industries'. It set 4 ambitions in the 'Plan for Growth', published at Budget 2011:
to create the most competitive tax system in the G20
to make the UK the best place in Europe to start, finance and grow a business
to encourage investment and exports as a route to a more balanced economy
to create a more educated workforce that is the most flexible in Europe
Work is underway across government to achieve these ambitions, including progress on more than 250 measures as part of the Growth Review. Developing an Industrial Strategy gives new impetus to this work by providing businesses, investors and the public with more clarity about the long-term direction in which the government wants the economy to travel.
Published 23 January 2014