Commission calls for views on childcare
Parents, early years professionals and others with an interest in childcare are today being urged to come forward with their ideas to help improve the accessibility and affordability of childcare.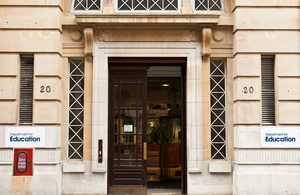 Parents, early years professionals and others with an interest in childcare are today being urged to come forward with their ideas to help improve the accessibility and affordability of childcare.
The childcare commission - which was announced by the prime minister last month and is led by ministers Sarah Teather and Maria Miller - is calling for evidence and ideas on how to make childcare more affordable for working families and reduce any unnecessary burdens on providers. We know that wrap around care is a particular issue for working parents, and the commission is especially interested in ways to improve the availability of provision before and after regular school hours and during school holidays.
The commission is looking at:
ways to encourage out of hours provision, so that parents are able to access care for their child when they need it;
identifying any regulation that is not needed to ensure safety or quality; and
how childcare helps to get parents into work and out of poverty.
Prime Minister David Cameron said:
I know hard-working families are struggling with the costs of childcare at the moment and we are determined to do more to help; that is why we launched the affordable childcare commission. Today the commission is asking for views from the public, and I urge the everyday experts - the parents, childminders and nursery owners - to get in touch with ideas for how we can make the system better and more affordable.
Deputy Prime Minister Nick Clegg said:
For many parents, getting access to good quality, affordable childcare is a real concern. We want to hear from parents and childcare providers, to get their views on how we can continue to provide first-class care without breaking the bank or being too complicated.
Decent early education makes a huge difference to a child's future, equipping them to succeed at school and ultimately get on in life. So it's important we get it right.
Sarah Teather, Minister for Children and Families, said:
I know at this time of year that parents across the country are concerned about holiday childcare cover. They want an affordable and high quality service. I also want to hear ideas on how we can improve the affordability and quality of childcare in this country.
Early education can help children advance and catch up, and help them prepare for school. It's one of the most important and powerful factors in determining a child's future.
We have an ambitious programme to extend the entitlement to free hours at a nursery or childminder to those two-year-olds who most need it. More than a quarter of a million two-year-olds will benefit from learning through play and stories in just two years' time.
So it's really important that we get this right and I hope we will receive many strong and fruitful ideas.
Early education has been a success story. Statistics published last month show that more than 1,264,000 young children benefited from free early education in 2012. Parents are happy with the service that is being delivered. Almost 90 per cent of parents said they were satisfied with free early education.
Maria Miller, Work and Pensions Minister, said:
Billions of pounds are spent by government subsidising childcare for families yet many low income families still struggle to make work pay. Universal Credit will help tens of thousands more low income families get help with childcare costs for the first time.
We want parents and providers to work with us to overhaul the current system of support to make it more effective in supporting families juggle work and family life.
In total the government invests around £5 billion each year in early education and childcare. Investment in the free early education entitlement is around £2 billion each year. In addition the government invests nearly £2 billion each year to help parents with the cost of childcare, mostly through Working Tax Credit. Further financial support of around £800 million is provided through tax and national insurance relief on childcare vouchers, directly contracted childcare and workplace nurseries (administered by employers).
Ministers recently announced an extra £300 million for childcare support under Universal Credit which will help around 80,000 more families work the hours they choose and for the first time support parents who want to work under 16 hours a week.
The call for evidence runs from 19 July until 31 August. The commission will report to the prime minister and the deputy prime minister in the autumn.
Notes to editors
There is more information and the opportunity to provide feedback to the childcare commission on both the DfE and DWP websites. The consultation will run until 31 August 2012.

The government is also considering the findings of Professor Cathy Nutbrown's report, Foundations for Quality - the independent review of early education and childcare qualifications, which looks to enhance quality in the sector. The government will respond later this year.

'Starting Well', produced by the Economist Intelligence Unit, ranked the UK fourth out of 45 countries in terms of quality, availability and affordability of early education for three- to six-year-olds, ahead of Denmark, France and the Netherlands.

Good examples of holiday and wraparound care are at schools in Wigmore Primary Academy in Hertfordshire, which stepped in when two privately run nurseries closed. In addition, the Free School Norwich incorporates on-site affordable childcare, allowing working parents to take children to school on the way to work and collect them from the same place at the end of the working day. Childcare is available six days each week for 51 weeks of the year.
DfE enquiries
Central newsdesk - for journalists 020 7783 8300
General enquiries - for members of the public 0370 000 2288
Published 19 July 2012