News story
CMA consults on modifications to Müller undertakings
The CMA is consulting on modifications to Müller's undertakings in relation to its proposed acquisition of the dairy operations of Dairy Crest.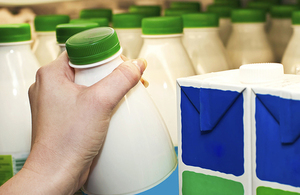 On 26 June 2015, the Competition and Markets Authority (CMA) announced it would consider in detail undertakings proposed by Muller UK & Ireland Group LLP (Müller) instead of referring the acquisition for an in-depth merger investigation.
The proposed undertakings would require Müller to sell an option to another dairy processor to require Müller to process a certain volume of fresh milk each year for supply to national grocery retailers.
On 10 August 2015, the CMA issued a notice of consultation on the proposed undertakings. In light of representations received in response to the consultation, Müller has made material modifications to the undertakings in order to strengthen its offer and provide a more effective remedy.
The CMA is now consulting on the proposed modifications. The CMA has until 19 October 2015 to consider whether to accept the undertakings.
The deadline for responses to this consultation is 7 October 2015.
The modified proposed undertakings and all information relating to the investigation are available on the case page.
Published 30 September 2015