CMA considers proposals to resolve competition concerns in dairy merger
The CMA is to consider undertakings offered by Müller to address competition concerns in relation to its acquisition of Dairy Crest's dairy operations.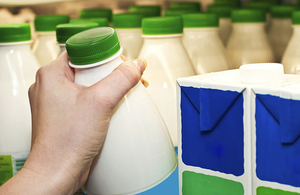 Earlier this month, the Competition and Markets Authority (CMA) announced that it would refer the proposed acquisition of the dairy operations of Dairy Crest Group plc (Dairy Crest) by Müller UK & Ireland Group LLP (Müller) for an in-depth investigation – unless acceptable undertakings were offered to address concerns about the loss of competition in the supply of fresh milk to national multiples in certain regions in Great Britain.
Müller has now offered to process for supply a certain volume of fresh milk to a third party dairy processor. This arrangement is to enable another processor to compete to supply national multiples in those regions. The purpose of the undertakings is to replace the competition provided by Dairy Crest that would be lost if the acquisition went ahead and provide national multiples with an alternative to Müller in certain regions.
Under the proposed undertakings, the CMA would need to approve both the terms of supply to the third party (including the price mechanism for the milk) and the suitability of the specific third party as a credible competitor. Müller must enter into the proposed supply arrangements before the CMA finally accepts its undertakings.
The CMA considers that the proposed undertaking is capable of remedying the concerns identified in the decision. The CMA has decided that there are reasonable grounds for believing that the proposed undertakings, or a modified version of them, might be accepted by the CMA instead of a more detailed phase 2 merger investigation.
Müller will now need to identify suitable dairy processors interested in entering into the processing arrangement with Müller and propose a named processor and draft arrangement to the CMA for approval. The CMA will shortly seek the views of market participants, including national multiples and dairy processors in order to assess whether the proposed undertakings are sufficient to address the competition concerns. Those third party views and the continued efforts of the parties to ensure a resolution that resolves the CMA's competition concerns will be particularly important in determining whether, ultimately, the CMA will be able to accept the proposed undertakings.
The CMA has until 21 August 2015 to decide whether to accept the proposed undertakings, or a modified version of them. The CMA may decide to extend this deadline by no more than 40 working days if it considers there are special reasons for doing so. If the undertakings are not accepted, the acquisition will be referred for a phase 2 merger investigation.
All information relating to the investigation is available on the case page.
Published 26 June 2015