News story
CMA consults on Müller proposed undertaking
The CMA is consulting on a proposed undertaking in lieu of a reference for Müller's proposed acquisition of the dairy operations of Dairy Crest.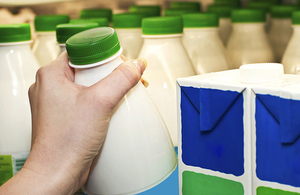 In June 2015, the Competition and Markets Authority (CMA) announced it would consider in detail undertakings proposed by Muller UK & Ireland Group LLP (Müller) instead of referring the case for an in-depth merger investigation. The proposed undertakings would require Müller to sell to another dairy processor an option to require Müller to process a certain volume of fresh milk each year for supply to national grocery retailers.
The proposed undertakings are designed to replace any constraint that may have originated from the downsized Dairy Crest operations that the CMA found may have existed absent the merger, as set out in its decision of 12 June 2015.
Müller has proposed 2 potential dairy processors with whom it is in negotiations to enter into the toll processing agreement: Medina Holdings Limited and Nijjar Group Holdings (Acton) Limited (trading as Freshways). The CMA proposes to accept the proposed undertaking, which it currently considers is appropriate to remedy its competition concerns.
Before reaching a final decision on whether to accept the proposed undertakings, the CMA is inviting third party views to comment on both the suitability of these 2 potential purchasers as effective competitors to Müller in the supply of fresh milk to national multiples in the Severnside catchment area, and on whether the proposed undertakings are appropriate to remedy in a clear cut manner the competition concerns identified by the CMA in its decision dated 12 June 2015.
The deadline for responses is 25 August 2015.
The CMA has also today announced that it is extending the deadline for consideration of the proposed undertakings by up to 40 working days until 19 October. The CMA may reach a decision on the acceptance of the proposed undertakings before this deadline.
The consultation on the undertaking and all other information relating to this investigation can be found on the case page.
Published 10 August 2015