China grants UK-based Aberdeen Asset Management business licence to operate in China
Aberdeen Asset Management granted business licence to operate in China strengthening the UK's presence in Asia's economic powerhouse.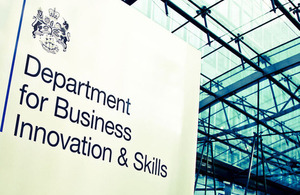 Aberdeen Asset Management, one of the UK's largest investment groups, has been granted a business licence which will make it easier to operate in China and significantly strengthen the UK's presence in Asia's leading economic powerhouse.
The licence – issued to a newly-created Aberdeen subsidiary by the State Administration of Industry & Commerce in Shanghai – will enable the company to set up an office in China under the pilot Free Trade Zone.
As a part of negotiations around the seventh UK-China Economic and Financial Dialogue, China has agreed to allow qualified, locally-incorporated wholly foreign-owned or joint-venture private fund management institutions to engage in private security management businesses – including secondary market trading of securities – according to domestic regulations.
Secretary of State for Business, Sajid Javid, said:
As we deepen UK-China relations it is rewarding to see Aberdeen Asset Management licensed to operate in China. The company will bring fund management expertise from the UK to the second largest economy in the world. I am committed to building relationships like this between our 2 nations.
Economic Secretary to the Treasury, Harriett Baldwin, said:
The Chancellor and I are in China to deliver on a key part of the government's economic plan. We want to secure London's future as China's bridge to western financial markets as part of a new golden era of cooperation between our countries.

Our efforts are already bearing fruit – I am delighted Aberdeen Asset Management has received a licence to operate in China as a wholly foreign-owned enterprise. This is an important step for an established British firm and will help to increase the links between our financial services industries.
Having received its licence to operate from the State Administration of Industry & Commerce (SAIC), the next step is to apply to be registered with the Asset Management Association of China.
Aberdeen Asset Management Chief Executive, Martin Gilbert, said:
UK business cannot ignore the structural development of China. It is already the second largest economy in the world and will sooner or later surpass the US. The work undertaken to obtain a WFOE licence is part of our overall strategy to ensure Aberdeen Asset Management is well placed for the next 10 to 20 years.
The announcement comes during a week-long tour of UK ministers and leading UK business to China, led by George Osborne. This continues the government's long-standing drive to forge greater links with the Asia-Pacific region, and to consolidate London's position as the western hub for Renminbi business outside of Asia.
Notes to editors
Aberdeen Asset Management is an independent asset management company. Formed out of a management buy-out in Aberdeen, Scotland, in 1983, it is now a FTSE 100 company operating in over 25 countries across Europe, Asia and the Americas.
Aberdeen Asset Management is defined by a pure focus on asset management, including equities, fixed income, property and multi-asset portfolios, including a strong and growing alternative investment capability. All Aberdeen Asset Management investment solutions are driven by a commitment to straightforward, transparent investment approaches that stress intensive, first-hand research and a long-term view.
Aberdeen's global alternatives platform encompasses multi-manager research and selection across hedge funds, private equity, and property along with direct investments in infrastructure projects. This means that Aberdeen can offer its clients access and exposure to high quality alternative investments across liquid strategies, private markets and real assets.
As at 30 June 2015, Aberdeen Asset Management manage total assets of US$483 billion on behalf of institutional and private investors.
Published 22 September 2015