News story
Change4Life launches its first alcohol campaign
A nationwide Change4Life campaign, which launches tonight, warns people that drinking slightly over the lower-risk alcohol guidelines can seriously…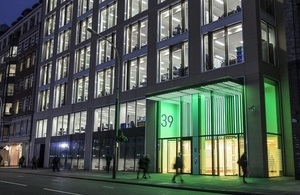 A nationwide Change4Life campaign, which launches tonight, warns people that drinking slightly over the lower-risk alcohol guidelines can seriously impact long-term health.
The TV ad highlights that regularly drinking about 2 large glasses of wine or 2 strong pints of beer a day, triples the risk of developing mouth cancer and doubles the risk of developing high blood pressure.
People unaware of the dangers
More than 9 million drinkers in England are potentially putting their health at risk by regularly drinking above the recommended guidelines.
A new survey, conducted by YouGov in December, reveals that most people are unaware of the serious illnesses caused by drinking more than the NHS recommends.
For example, 85% of people did not realise it increases the risk of developing breast cancer; 66% the risk of bowel cancer; 63% the chance of pancreatitis; 59% the risk of mouth, throat and neck cancer; 30% the risk of high blood pressure and 37% did not realise that it reduces fertility.
Secretary of State, Andrew Lansley said:
"It's crucial we support people to know about how drinking too much poses risks to their health and how they can take control of their drinking.
"It can be easy to slip into the habit of having a few extra drinks each day, especially when drinking at home. But there can be serious health risks. Don't let drinking sneak up on you.**
"That is why I am launching this campaign, to alert** **people that it is not just binge drinkers that damage their health. There are simple ways we can all cut down how much alcohol we drink if we need to.
"Change4Life is a fantastic, well known campaign, that has already helped a million families around the country. I want to expand it beyond eating well and moving more, so people look after themselves and really do live longer."
Campaign resources
An online calculator, available on the Change4Life website, can help people check how much they are drinking and work out whether they need to cut down.
Campaign leaflets are being made available for Change4Life supporters and health professionals around the country.
The campaign offers handy hints and tips on how people can cut down - such as:
having alcohol-free days
not drinking at home before going out
swapping to low-alcohol or alcohol free drinks
using smaller glasses
For anyone working directly with the public, you can find out more about Department of Health public health campaigns, the resources available and how to order, by visiting the Campaign Resource Centre website. Launched last month, the online Campaign Resource Centre provides the latest news, information and resources for those working in this area.
Chief Medical Officer Professor Dame Sally Davies said:
"Drinking too much is a major public health issue. This campaign highlights how easy it can be to use a glass of wine or beer to unwind at the end of a busy day but these drinks stack up and can increase your risk of high blood pressure, cancer or liver disease.
"The campaign with its new online calculator is available on the Change4Life website to help and encourage people to check how much they are drinking and if they find they are drinking over the guidelines, can help them cut down."
Alcohol guidelines
The lower-risk alcohol guidelines are that:
men should not regularly drink more than 3 to 4 units a day
women should not regularly drink more than 2 to 3 units a day_ _
Drinking heavily regularly on just 1 or 2 days a week can also be harmful to your health in the long term.
The campaign will run for 6 weeks from Sunday 5 February.
Published 5 February 2012