Press release
Business taskforce asks companies to help target EU red tape
Business-led taskforce on EU regulation has today asked UK firms to help identify where action is most needed to roll back EU red tape.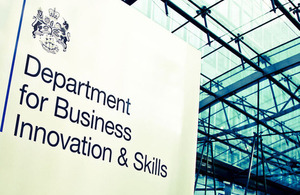 Firms invited to specify how unnecessary bureaucracy holds back growth
The government's business-led taskforce on EU regulation has today asked UK firms to help identify where action is most needed to roll back EU red tape.
The six business leaders were appointed by the Prime Minister last month as part of the government's drive to cut bureaucracy and promote growth. The group is chaired by Business Minister Michael Fallon, and met for the first time at Downing Street today.
The taskforce wants businesses of all sizes and sectors to submit evidence of where European rules and regulations create unnecessary barriers to competitiveness, including EU barriers to:
starting a business
innovation: including developing, patenting and marketing new products and services
business expansion
exporting
recruiting and hiring staff
overall competitiveness and day-to-day operations
It will focus in particular on regulations pertaining to employment, chemicals, food safety and hygiene, the digital economy and life sciences. The group is particularly keen to engage with small companies throughout the supply chain.
Business Minister Michael Fallon said:
EU red tape can still make it too difficult to start a business, develop a new product or export. Our ambitions for growth demand decisive action to clear away the rules that impose the biggest burdens on hard-pressed firms. Business must be in the driving seat of this process.
The members of our task force have great expertise in running and growing businesses, creating jobs and generating wealth. This wider call for evidence will strengthen the impact of its work and help us tackle the issues that concern firms of every size, from every part of the UK and in Europe, and at every stage of development.
On June 28 the Prime Minister named the six business leaders who will work with the government to identify the European rules and regulations that need abolition or reform to help British companies grow. They are:
Marc Bolland, Chief Executive M&S
Ian Cheshire, CEO Kingfisher
Glenn Cooper, Managing Director, ATG Access
Louise Makin, CEO BTG
Dale Murray CBE, Angel Investor 2011 and BIS Non-Executive Director.
Paul Walsh, Diageo
The panel will report in September 2013, and will set out concrete proposals for reform to European rules, regulations and practices that have the most impact on British business. The Taskforce will also consider the potential for wider reforms at EU level, including examining ways in which businesses can influence and shape EU regulatory process at an earlier stage.
Evidence from businesses should be sent to: tacklingeuredtape@bis.gsi.gov.uk
The deadline for comments is 23 August. Further information about the task force is at http://discuss.bis.gov.uk/tacklingeuredtape
Notes to Editors
1.The task force will do its best to consider comments posted after 23 August, but cannot guarantee that they will be fed into the review.
2.The government has worked to improve the regulatory environment in the EU, ended the practice of 'gold-plating' EU regulations, and is reforming or abolishing thousands of regulations through the Red Tape Challenge. Government reforms have already saved business some £1bn in reduced regulatory costs. Where issues raised through the Red Tape Challenge stem from EU regulation, they will be considered as part of the task force review.
3.The work of the group will inform government reform and lobbying in Brussels and across Europe, as well as helping shape longer-term thinking about the impact of EU regulation on the UK.
4.The panel members.
Ian Cheshire, CEO Kingfisher
Appointed to the Board in June 2000 and as Group Chief Executive in January 2008. He is also a non-executive director of Whitbread plc, lead non-executive member on the Department for Work and Pensions Board, member of the Prince of Wales Corporate Leaders Group on Climate Change, and a Member of the Business Disability Forum President's Group. In October 2012, Ian became the Chairman of the British Retail Consortium. Ian was previously Chief Executive, B&Q UK from June 2005. He was appointed Chief Executive International and Development in September 2002, Chief Executive of e-Kingfisher in May 2000 and was Group Director of Strategy. Before joining Kingfisher he worked for a number of retail businesses including Sears.
Dale Murray CBE, entrepreneur and angel investor
Dale joined the BIS Departmental Board in January 2013. Dale has been an angel investor since 2006, and has a portfolio of investments across technology, mobile, leisure, cleantech and publishing sectors. She won British Angel Investor of the Year in 2011.
She is also a successful entrepreneur, having co-founded the pioneering mobile top-up business Omega Logic, which she built to £25m of revenue within five years.
She was the youngest ever person on the Price Waterhouse NZ school leaver programme, has been a founder member of the management team that commercially launched Vodafone NZ, held the position of Chief Operating Officer, then CEO, of Eposs Ltd and Managing Director and Co-Founder of Omega Logic Ltd.
Dale is currently a Non-Executive Director of UKTI and Sussex Place ventures, and Board Advisor at Incito Ventures and Seedrs.
Marc Bolland, Chief Executive M&S
Marc began his career at Heineken NV in The Netherlands in 1987, occupying several Marketing and Sales management roles. In 1995 he was appointed Managing Director for Heineken in Slovakia, becoming Managing Director for Heineken Export Worldwide in 1999. Marc was then appointed to the Board of Heineken NV in 2001 with responsibility for Western Europe, US, Latin America, Northern Africa and Global Marketing. In 2005 he became Chief Operating Officer. He joined Morrisons in September 2006 as Chief Executive Officer. Marc is currently non-executive Director of Manpower Inc US, and has previously held non-executive Director roles at Hotel de I'Europe, The Netherlands (2003-2006), Quilmes, Argentina (2001-2003).
Paul Walsh, Diageo
Paul was Chief Executive, Diageo plc from 1 September 2000 to 30 June 2013 and is now an Advisor to the Chairman and Chief Executive.
Paul joined GrandMet's brewing division in 1982 and became Finance Director in 1986. He held financial and commercial positions with Inter-Continental Hotels and in the GrandMet food business, becoming CEO of The Pillsbury Company in 1992. Paul was appointed to the GrandMet Board in October 1995 and to the Diageo Board in December 1997.
Paul is a non-executive director of FedEx Corporation, Unilever plc, and Avanti Communications plc. He was previously a non-Executive Director of Centrica plc, stepping down in May 2009. Paul will become Non-Executive Director, Compass Group plc in January 2014 and is expected to become Non-Executive Chairman in February 2014.
He has also been appointed Business Ambassador for the food and drink industries by the UK Department for Business, Innovation and Skill and is a Council Member, and former Chairman, of the Scotch Whisky Association.
Louise Makin, CEO BTG
Louise joined BTG as Chief Executive Officer in October 2004 and she is a non-executive director of Intertek Group plc and a Trustee of the Outward Bound Trust. From 2001, she was President, Biopharmaceuticals Europe of Baxter Healthcare, where she was responsible for Europe, Africa and the Middle East. Louise joined Baxter Healthcare in 2000 as Vice President, Strategy & Business Development Europe. Before joining Baxter, she was Director of Global Ceramics at English China Clay and prior to that she held a variety of roles at ICI.
Glenn Cooper, Managing Director/Owner ATG Access
ATG Access is the country's leading electronic bollard company. Glenn Cooper appointed as MD in 2002 who completed a full management buy out in 2006. Now export to over 40 countries annually. Expect to achieve revenues of between £35-40m over the next five years following significant investment from LDC Private Equity (part of the Lloyds banking group).
Welcoming the formation of the group on 28 June, Simon Walker, Director General of the Institute of Directors, said:
IoD members are all too aware of the heavy burden that unnecessary and poorly designed regulation can place on businesses. We welcome this industry-led taskforce, and hope it will illuminate the areas of European regulation which need urgent reform. British businesses are buzzing with innovation and ambition, and delivering the best possible climate for them to grow should be at the top of the government's agenda.
Marc Bolland, Marks & Spencer Chief Executive, said:
EU regulation has a significant impact on British business. I therefore welcome the opportunity to get to contribute to this important initiative.
Ian Cheshire, Group Chief Executive, Kingfisher plc, said:
We need a single market fit for the 21st century. That means reducing the regulatory burden on business through a reformed EU. We welcome the government's commitment to working towards this.
5.The Red Tape Challenge is a cross-government programme to get rid of burdensome regulations, to boost business and economic growth and to save taxpayers money. Of around 6,500 substantive regulations being examined by the Red Tape Challenge we have committed, by December 2013, to identify at least 3,000 regulations to scrap or improve. Red Tape Challenge reforms are already saving business over £212m per year- with many further savings not yet quantified. The latest data shows that to date almost 2,000 regulations have been identified to be scrapped or substantially reduced.
6.The government's economic policy objective is to achieve 'strong, sustainable and balanced growth that is more evenly shared across the country and between industries'. It set four ambitions in the 'Plan for Growth', published at Budget 2011:
to create the most competitive tax system in the G20
to make the UK the best place in Europe to start, finance and grow a business
to encourage investment and exports as a route to a more balanced economy
to create a more educated workforce that is the most flexible in Europe.
Work is underway across government to achieve these ambitions, including progress on more than 250 measures as part of the Growth Review. Developing an Industrial Strategy gives new impetus to this work by providing businesses, investors and the public with more clarity about the long-term direction in which the government wants the economy to travel.
Published 11 July 2013