Press release
Baroness Mone publishes 'Be the boss' review
Findings of an independent review to help increase business start-ups in the most disadvantaged communities across Great Britain.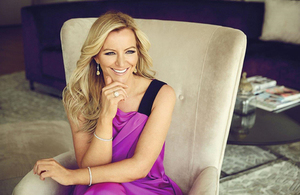 Leading entrepreneur and businesswoman Baroness Mone OBE has today unveiled the findings of her independent review to help increase business start-ups in the most disadvantaged communities across Great Britain.
'Boosting enterprise in more deprived communities' is the culmination of a 6 month-journey in which Baroness Mone met business leaders, start-up owners and aspiring entrepreneurs from areas of high unemployment across the country.
The self-employment rate in Great Britain stands at 10% of the working age population, however in the 10% most deprived areas, people are almost 50% less likely to be self-employed.
Baroness Mone worked to identify what barriers they faced when starting up a business, and to create a series of recommendations to reverse this trend.
Some of the review recommendations include:
improving access to start-up loans
strengthening the quality of New Enterprise Allowance (NEA) support to achieve stronger and more viable businesses
encouraging existing self-employed people to mentor new business starters
asking schools, local authorities and government to look further at how business skills can be taught to pupils
Baroness Mone OBE said:
I was honoured to conduct this review, and to make a series of recommendations that I believe will help strengthen enterprise across the country.

People living in the most deprived communities still face barriers to starting up their own businesses. It is vital we take steps to overcome these by boosting their confidence, offering more income security and building better business networks.

By improving access to loans and mentors, and boosting existing Government support to aspiring business leaders, we can help foster a more entrepreneurial Britain and improve the lives of families and communities across the country.

This report is only the beginning. I will continue to work in a personal capacity with high street banks to create a nationwide network of bank-funded enterprise hubs and support more people to become self-employed.
Secretary of State for Work and Pensions Iain Duncan Smith said:
I want to thank Michelle for her work looking at how we can support more people in disadvantaged areas to set up their own businesses.

Michelle has met more than 75 organisations and 120 people in the course of her review, and has made insightful recommendations.

Helping more people to become self-employed will help support economic growth and create jobs in some of the most disadvantaged communities, and we will now look at Michelle's recommendations carefully.
Business Secretary Sajid Javid said:
Entrepreneurs across the country should be celebrated for their impact on job creation and economic growth.

It is absolutely right that government supports people from all walks of life who have a great idea they want to turn into a business. I welcome the publication of this review and remain committed to our start up loans programme, which has so far helped more than 35,000 people become their own boss.
Raised in a deprived part of Glasgow's east end and having left school at 15 with no qualifications, Baroness Mone built a globally-recognised brand Ultimo in her twenties. She subsequently won the World Young Business Achiever Award in the US, as she took the lingerie brand global before the multi-million pound sale of 80% of the business last year.
The Department for Work and Pensions has existing support for people looking to set up their own business through the New Enterprise Allowance which offers expert mentoring and financial assistance to entrepreneurial jobseekers.
A wide-reaching poll, published in January, found 80% of ventures started with NEA assistance are still trading, with more than nine in ten of these going for more than 12 months.
Reactive statements from stakeholder organisations
Lindsay Owen, Deputy Director of Policy Evaluation from The Prince's Trust, said:
At The Prince's Trust, we know that self-employment can be a vital route to success for many young people from disadvantaged areas who are trapped by poor qualifications and few job opportunities.

We welcome these proposals to provide more support for people for poorer areas and ensure they receive the training, mentoring and financial assistance they need to make their business ideas a success. Turning these policy ideas into action has the potential to make a huge difference to young people, their communities and the wider economy.
Sarah Trouten, CEO of the Institute of Enterprise and Entrepreneurs (IOEE):
We are delighted to see mentoring featuring as a key recommendation of Michelle's' review as we have witnessed first-hand where high quality mentoring has helped to strengthen the chances of success for those looking to start or grow a new business. We fully support the recommendation for quality assessment of both mentors and business advisers as part of the NEA structure as our research proves that high quality business support increases success rates, particularly for those who are just starting.
Ian Stuart, Head of Commercial Banking Europe at HSBC, said:
I would like to personally add my support to this review. As one of the leading commercial banks in the UK we are acutely aware of the challenges facing start-up businesses. This review outlines a number of ways to help support new enterprises across Britain, and I look forward to working closely with Baroness Mone on ways to help overcome barriers that are being faced.
Jimmy McLoughlin, Head of External Affairs, Institute of Directors:
Entrepreneurialism has really taken off in the UK in recent years, with more and more people wanting to be their own boss and build a successful business. The opportunity to start your own company must not be withheld from people from deprived communities, so it's welcome that Baroness Mone has today put forward detailed suggestions on improving the New Enterprise Allowance scheme. Education also has to play a much bigger part. If setting up a business is presented to children in school as normal and achievable, it will encourage more young people to consider it when they leave education.
Ruth Lowbridge MBE, Executive Chair of the SFEDI Group:
A thoroughly refreshing approach to reviewing the challenges faced by those disadvantaged by either where they live or the accessibility of adequate support networks. Michelle, in her own inimitable style, has fired straight to the core of the challenges faced with practical recommendations which are sure to have far reaching effects on the whole of the small business community not just those looking to start-up businesses in disadvantaged areas.
Katharine Danton, Director of Strategy and Influence, UnLtd: the Foundation for Social Entrepreneurs:
UnLtd welcomes Baroness Mone's report and the light it shines on the needs of entrepreneurs in every part of the country. Our work has shown that there are entrepreneurial people in every community, many of whom have a specific intent to tackle a social challenge. It's critical that they are supported not only to start up but to start well.

"We therefore commend the report's focus on the value of more intensive and longer-term support, quality mentoring and appropriate finance. We also welcome Baroness Mone's recognition of the importance of embedding experiences of entrepreneurship and social entrepreneurship into education, and the link between this and character education.

Her endorsement of new skills pathways for aspiring entrepreneurs, including the apprenticeship currently being developed, is timely. We look forward to the implementation of these recommendations and to many more entrepreneurs and social entrepreneurs being both inspired and able to reach their potential.
Contact Press Office
Media enquiries for this press release – 0207 449 5003
Press Office
Caxton House
Tothill Street
London
SW1H 9NA
London Press Office (national media and London area enquiries only – not questions about personal claims) 020 3267 5144
Out-of-hours (journalists only) 07623 928 975
England and Wales (local media enquiries) 029 20 586 then 097 or 098 or 099
Scotland (local media enquiries) 0131 310 1122
Follow DWP on:
Published 1 March 2016