Press release
Banks agree protocol on branch closures
High street banks, consumer groups and the government have signed up to an industry-wide agreement to minimise the impact of branch closures.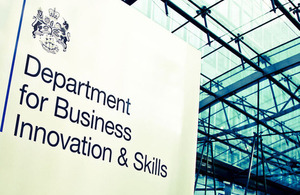 The major high street banks, consumer groups and the government have today (26 March 2015) signed up to an industry-wide agreement to work with customers and communities to minimise the impact of branch closures and put in place alternative banking services.
Business Secretary Vince Cable wrote to banks in December 2014 calling for clear procedures setting out the steps that banks would take when closing a branch to ensure customers in rural and deprived areas do not lose out.
In response, the British Bankers Association (BBA) - the trade association for the UK banking sector - has agreed the guidelines with consumer and business groups, charities and wider government.
The protocol commits the banks to:
work with local communities to establish the impact of the branch closure, prior to its closure
find suitable alternative provision to suit individual communities
put satisfactory alternative banking services in place before a branch is closed. Options for this will include free to use cash machines, the proximity of alternative branches, and Post Office branches and mobile banking arrangements
The protocol will be reviewed by an independent reviewer after one year.
A majority of the banks' customers can already access banking services via the Post Office. And with more than 11,500 branches, the Business Secretary believes that the Post Office network plays a vital role in providing access to banking services particularly in more remote areas or those that are poorly served by the banks.
That role is set to increase with the BBA, banks and Post Office currently negotiating to standardise the services available to the banks' customers, including small business customers at Post Office branches.
Business Secretary Vince Cable said:
Banks have a duty to ensure that all their users and especially vulnerable customers, small businesses and those in rural communities can continue to access over the counter banking services. People are increasingly banking online, but it's not necessarily an option for everyone and we must ensure people are not left behind. This industry agreement recognises those concerns, commits to finding alternatives and is a major step forward.

The next stage is for the banks to reach a commercial agreement with the Post Office to improve the facilities for small business customers so that they can get a consistent level of service like consumers.
Economic Secretary to the Treasury Andrea Leadsom said:
I've received a lot of correspondence from consumers and businesses who are worried about bank closures and the trend in banking services moving online, and I think it is essential that banks continue to take into account the impact of their decisions on their customers.

I therefore welcome the agreement announced today that banks will work more closely with their customers and local communities to minimise the impact of bank closures.

I also met recently with the Post Office and urged them to make sure that customers have the ability to access banking services at their local Post Office, which is a lifeline for so many.
Anthony Browne, Chief Executive of BBA, said:
The way we bank is changing, with millions of us now embracing a range of digital services to spend, move and manage our money. Because of this change in customer behaviour banks are investing more heavily in innovative technology to make banking quicker and more convenient. This means that the number of branches is falling.

Today's ground-breaking agreement will make sure customers still have banking services close at hand if a branch closes. Communities will be given fair notice of any closure and clarity about the alternative places and ways to bank. This includes the Post Office, which is an ideal shared service for customers who prefer to use counter services. The agreement will also make sure there is the right support to help customers use internet or mobile banking.

It's important to remember there are nearly 10,000 branches open for business and 11,500 Post Offices where many of us can now withdraw cash, pay in cheques and use other counter services. There are significant events in life where customers need to go into a branch, which is why banks will continue to invest in this integral part of their services for decades to come.
Nick Kennett, Director - Post Office Financial Services said:
The Post Office is unique in providing people with easy access to banking services throughout the UK. We are transforming our unrivalled branch network to meet the needs of our customers wherever they live in the UK, providing longer opening hours and new modern retail environments. Over 4,000 branches have already been modernised offering over 100,000 extra opening hours for customers. The banks can establish commercial arrangements with us, so that we can meet the needs of both their personal and businesses customers. We welcome that the protocol recognises the vital role Post Offices plays at the heart of communities to support banking services.
Notes to editors:
At Budget the government announced that it expects the banking industry to reach an agreement to work with the Post Office to deliver a standard approach to counter services for personal current account customers and business account customers in Post Office branches by the end of March 2015.
In October 2014 the Economic Secretary to the Treasury, Andrea Leadsom, met senior executives from Britain's banks and building societies to discuss widening banking services for customers across the country.
Bank services available to personal customers and small businesses at Post Offices as at 12 March 2015:
| Bank/financial institution | Personal accounts: cash withdrawals and balances | Personal accounts: deposit cash and cheques | Businesses: |
| --- | --- | --- | --- |
| Advanced Payment Solutions | Yes | Cash only | Yes |
| Bank of Ireland | Yes | Yes | Yes |
| Bank of Scotland | Yes | No | Personal only |
| Barclays | Cash withdrawals only | Yes | Personal only |
| Clydesdale / Yorkshire | Yes | Yes | Yes |
| Danske Bank | Yes | Yes | Yes |
| First Trust (Basic bank accounts only) | Yes | No | Personal only |
| Halifax | Yes | Yes | Personal only |
| HSBC and First Direct | Yes | Yes | Personal only |
| Lloyds | Yes | Yes | Personal only |
| Nationwide | Yes | No | Personal only |
| Santander (inc Cahoot) | Yes | Yes | Yes |
| Co-op Bank and Smile | Yes | Yes | Yes (via Santander) |
| RBS / NatWest / Ulster | Yes | Yes | Yes |
| TSB | Yes | Yes | Personal only |
| Virgin Money | Yes | Cash deposits only | Personal only |
Published 26 March 2015