News story
Auschwitz-Birkenau museum: Prime Minister's statement
Prime Minister David Cameron's statement following his visit to the Auschwitz-Birkenau museum.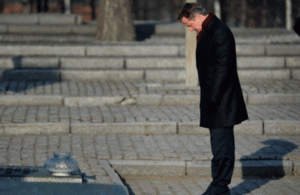 Following the visit the Prime Minister said:
I wanted to come here to see for myself the place where over one million people, the vast majority from Europe's Jewish communities, lost their lives at the hands of the murderous Nazi regime. And I wanted to better understand what they went through and to underline the importance of educating future generations about the Holocaust.

While I have talked to many Holocaust survivors about their experiences before, coming here has really brought home the terror and torture they faced. As I walked round the gas chamber, past the children's shoes and down the railway tracks, I was filled with an overwhelming sense of grief for all those who were killed simply because of their faith, their beliefs or their ethnicity.

It has reinforced for me the importance of the work our Holocaust Commission is doing to ensure we educate future generations so that they never have to witness such genocide. Next month, as we mark the 70th anniversary of the liberation of Auschwitz, the Holocaust Commission will set out their proposals. Like the Auschwitz-Birkenau Museum, the focus must be on remembrance, preservation and education.

It is also a reminder of why the UK must fight against prejudice, persecution, anti-semitism and tyranny wherever we find it and stand up for inclusiveness, tolerance and peace.
Published 10 December 2014