Prime Minister launches Holocaust Commission
The commission will work to ensure Britain has a permanent memorial to the Holocaust and educational resources for future generations.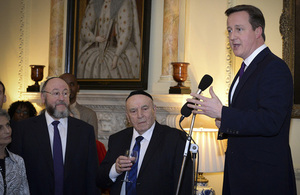 The Holocaust Commission: keeping the memory alive
Actress Helena Bonham Carter and the Chief Rabbi Ephraim Mirvis are to sit on the Prime Minister's Commission on the Holocaust, David Cameron has announced.
The Prime Minister has given details of the full membership, which also includes cross-party representation from Ed Balls, Michael Gove and Simon Hughes, broadcaster Natasha Kaplinsky, educator Dame Helen Hyde, Arts Council Chair Sir Peter Bazalgette and, from the world of business, Leo Noe and Ruby McGregor-Smith.
The commission and commission chair, Mick Davis of The Jewish Leadership Council, were first announced by the Prime Minister at the Holocaust Educational Trust 25th anniversary dinner in September 2013. It will investigate whether further measures should be taken to ensure Britain has a permanent and fitting memorial to the Holocaust and educational resources for future generations.
The work of the commission will be supported by 2 expert groups investigating Holocaust education and commemorative events, memorials and museums. The groups will be chaired by commissioners Dame Helen Hyde and Sir Peter Bazalgette respectively. Expert group members include historian Dr Simon Sebag Montefiore, Director-General of the Imperial War Museum Diane Lees and Holocaust survivors Ben Helfgott and Jack Kagan.
The commission will report its findings to the Prime Minister by the end of the year.
Commissioners attended a Downing Street reception hosted by the Prime Minister for survivors of the Holocaust and other genocides to commemorate Holocaust Memorial Day. Representatives of The Holocaust Memorial Day Trust, The Holocaust Educational Trust and Jewish Care's Holocaust Survivor's Centre also attended.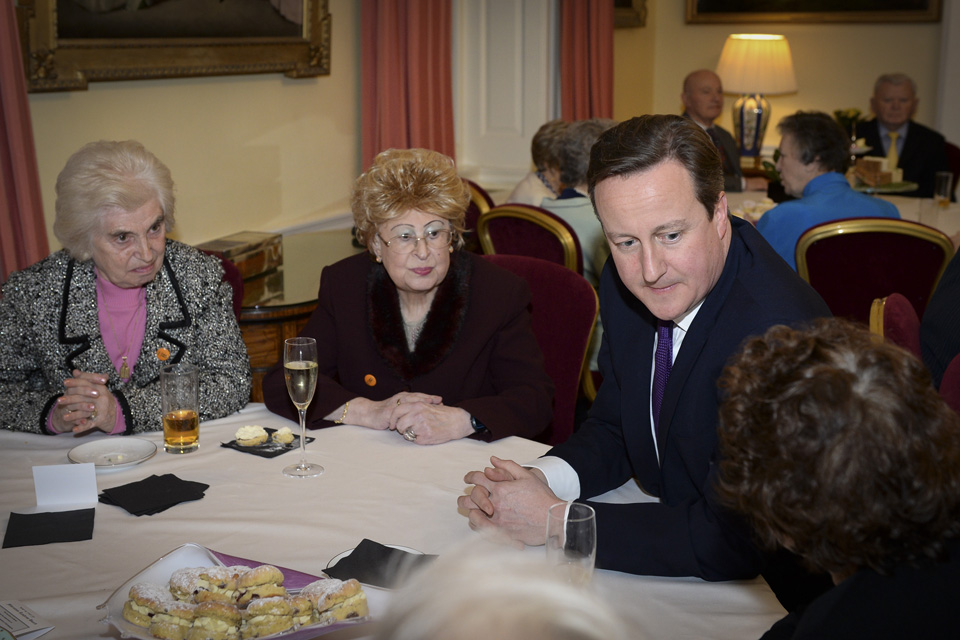 Submit your views
A public call for evidence begins today and will run until the end of May this year, with people across the country invited to submit their views. A number of regional evidence sessions will also be held to hear from interested parties in person. A young person will also be selected from responses to the call for evidence to join the commission as a youth representative.
Prime Minister David Cameron said:
Survivors have played a vital role in keeping the memory of the Holocaust alive, but we will not always have these remarkable individuals with us. We face a real danger that, as the events of the Holocaust become ever more distant, they feel increasingly remote to current and future generations.

This cross-party, national commission representing our whole society will investigate what more needs to be done to ensure Britain has a permanent and fitting memorial and the educational resources needed for generations to come.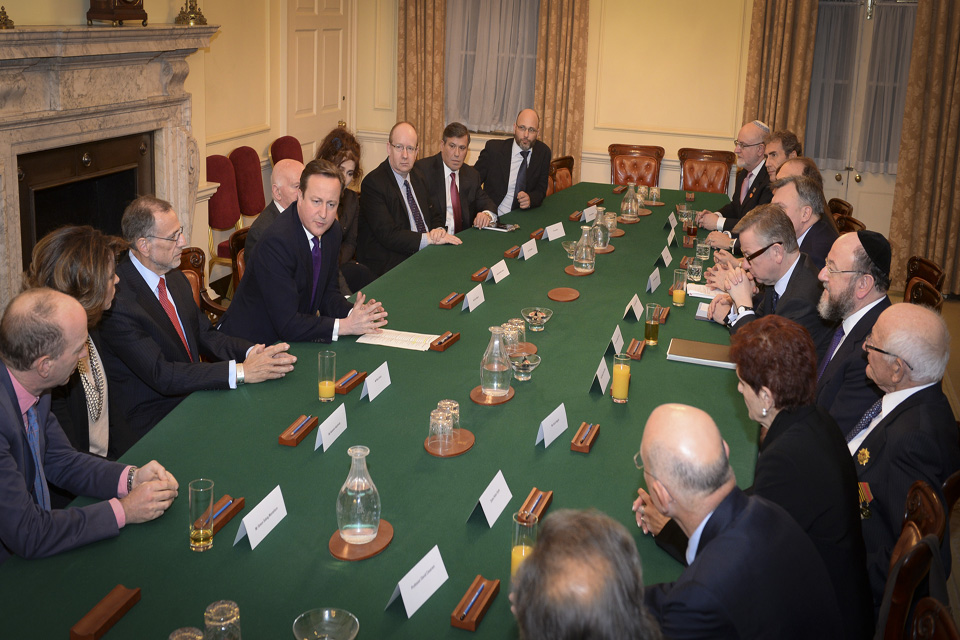 Statements from commissioners and organisations
Commission chair Mick Davis said:
The Holocaust stands alone as the darkest hour in human history. Our task is to recommend in addition to what is already done in the United Kingdom, the appropriate way for it to be commemorated so that the memory and lessons of the Holocaust remain central and relevant for future generations.

I urge everyone to share their views on this important issue by responding to the call for evidence we will publish today.
Helena Bonham Carter's grandfather Eduardo Propper de Callejon was posthumously recognised for his role in saving hundreds of Jews during the Second World War.
Helena Bonham Carter said:
I am very honoured to be asked to join this commission and do so in particular memory of those members of my family who died in the Holocaust and as an inherited responsibility to my grandfather who made a significant personal sacrifice to save hundreds of lives.

It is our generations' legacy to create a living memory that will survive the survivors and forever remind future generations of the inhumanity man is capable of committing to its own kind.
Chief Rabbi Ephraim Mirvis said:
We thank the Prime Minister for his vision and foresight in setting up the Holocaust Commission. This is a unique opportunity to shape commemoration and education of the greatest evil perpetuated by man, ensuring that we in Britain learn the lessons and do our utmost to prevent the reoccurrence of such atrocities against any group anywhere in the world.
Karen Pollock MBE, Chief Executive of the Holocaust Educational Trust, said:
There can be no more fitting assurance to survivors to know that, as their number sadly declines, we are looking ahead to ensure that there is a permanent and fitting memorial to the Holocaust in this country. The Prime Minister's national Holocaust Commission is a significant step in achieving that goal.
Ben Helfgott MBE, Holocaust survivor, Honorary President of the Holocaust Memorial Day Trust and member of the expert group on commemoration said:
I know that the Holocaust Memorial Day Trust is supporting over 2,000 activities in every part of the country this Holocaust Memorial Day. It is a huge honour that the Prime Minister has chosen to join thousands of Holocaust Memorial Day activity organisers across the UK by holding his own reception and inviting survivors of the Holocaust and of subsequent genocides to Downing Street as his guests.
Janine Webber, a member of Jewish Care's Holocaust Survivors Centre said:
As a Holocaust survivor I am very touched by the invitation to Number 10 Downing Street. I am pleased that the Prime Minister has chosen to support Holocaust Memorial Day and show his commitment to remembering the atrocities of the Holocaust and other genocides. We need to be reminded of what can happen when human beings forget their common humanity.
Membership of the Holocaust Commission
Mick Davis (Chair)
Mick Davis is a British/South African businessman and the Chair of the Board of Trustees of the Jewish Leadership Council.
Rt Hon Michael Gove MP
Michael Gove is the Conservative Member of Parliament for Surrey Heath and has served as Secretary of State for Education since May 2010.
Rt Hon Ed Balls MP
Ed Balls is the Labour & Co-operative Member of Parliament for Morley and Outwood and has served as Shadow Chancellor of the Exchequer since January 2011. He was Secretary of State for Children, Schools and Families from 2007 to 2010.
Rt Hon Simon Hughes MP
Simon Hughes is the Liberal Democrat Member of Parliament for Bermondsey and Old Southwark. He is Deputy Leader of the Liberal Democrats and was made Minister of State at the Ministry of Justice in December 2013.
Chief Rabbi Ephraim Mirvis
Chief Rabbi Ephraim Mirvis is the 11th Chief Rabbi of the United Hebrew Congregations of the Commonwealth. A former Chief Rabbi of Ireland, he served as Senior Rabbi at Finchley United Synagogue and has held educational and community positions in Israel, Ireland and the UK.
Helena Bonham Carter CBE
Helena Bonham Carter is a 2-time Academy Award nominated actress and has received 7 Golden Globe nominations, an International Emmy, a BAFTA, and a Screen Actors Guild Award. She was appointed a CBE for her services to drama in the 2012 New Year honours.
Helena's maternal grandfather, Spanish diplomat Eduardo Propper de Callejón, saved thousands of Jews from the Holocaust during World War II, for which he was recognised as Righteous Among the Nations.
Dame Helen Hyde DBE
Helen Hyde is headmistress of Watford Grammar School for Girls, a fellow of Holocaust education at the Imperial War Museum and a trustee of the Holocaust Educational Trust. She was honoured for services to national and Holocaust education in 2013.
Sir Peter Bazalgette
Peter Bazalgette is chair of Arts Council England, president of The Royal Television Society and former chair of English National Opera. He has served on the boards of YouGov, MirriAd, Channel 4 and was the chief creative officer of Endemol and a non-executive director of the Department for Culture, Media and Sport.
Natasha Kaplinsky
Natasha Kaplinsky is a newsreader and television presenter. She lost family members in the Slonim ghetto.
Leo Noé
Leo Noé is the British born son of Holocaust survivors, a philanthropist and businessman. He is Vice-President of the Jewish Leadership Council and Executive Chairman of F&C REIT, a specialist property asset management company with a global portfolio of properties.
As well as serving as a trustee of his family's charitable foundation, Leo Noé also serves as a trustee of a number of education and social welfare charitable organisations.
Ruby McGregor-Smith CBE
Ruby McGregor-Smith is a non-executive director of the Department for Culture, Media and Sport. She is Chief Executive of MITIE Group PLC, one of a small number of women holding the position of Chief Executive in the FTSE 100 and FTSE 250 and was the first Asian woman to be appointed to such a role within that group of companies.
Expert group on education
Dame Helen Hyde (Chair)
Professor David Cesarani OBE
David Cesarani is research professor in history at Royal Holloway, University of London. He has written several books on Jewish history and the Holocaust, and contributed to numerous television, radio and film documentaries. In 2005 he was awarded the OBE for his work with the Home Office unit responsible for the establishment of Holocaust Memorial Day. He was a trustee of the Holocaust Memorial Day Trust 2006 to 2013 and is a consultant to the Holocaust Educational Trust. He is on the Council of the Jewish Historical Society and an academic adviser to the Jewish Museum in London.
The Lord (Daniel) Finkelstein, OBE
Daniel Finkelstein is the Associate Editor and political columnist for The Times and the Chair of Policy Exchange. He is Patron of the Wiener Library for the Study of the Holocaust and Genocide and the son of a survivor of Bergen Belsen. Lord Finkelstein was awarded the OBE in the 1997 honours list and was elevated to the House of Lords in September 2013.
Henry Grunwald OBE QC
Henry Grunwald was President of the Board of Deputies of British Jews and one of the founders, and the first Chair, of the Jewish Leadership Council. He currently holds a number of communal positions and has just stepped down as Vice-Chair of the Holocaust Memorial Day Trust. He was awarded the OBE in 2009 for services to the Jewish community and interfaith relations.
Maurice Ostro
Maurice Ostro is an entrepreneur and inter-faith philanthropist. He is the Founder and Chair of the Fayre Share Foundation; Vice-Chairman of the Council of Christians and Jews and Founder Patron of the Faiths Forum for London.
Dr Simon Sebag Montefiore
Dr Simon Sebag Montefiore is a critically acclaimed historian, novelist and TV presenter: his books are world bestsellers published in over 40 languages. He is author of Jerusalem: The Biography, Stalin: The Court of the Red Tsar, Catherine the Great & Potemkin and Young Stalin which won the Costa Biography Prize (UK), LA Times Biography Prize (US) and La Grande Prix de Biographie Politique (France).
Dr Montefiore has presented 3 BBC television series Jerusalem: Holy City; Rome: the Eternal City; and Byzantium-Constantinople-Istanbul. He is a Fellow of the Royal Society of Literature.
Expert group on commemoration
Sir Peter Bazalgette (Chair)
Ben Helfgott MBE
Ben Helfgott is a Polish/British Holocaust survivor and former champion weightlifter. After 3 years in the Piotrkow-Trybunalski ghetto, he survived Bugaj and Hortensia labour camps and Buchenwald, Schlieben and Theresienstadt concentration camps. He was sent to England after the war with 700 other youngsters after being liberated from Theresienstadt. Ben and one of his sisters were the only members of his family to survive.
Ben represented Britain in the Melbourne and Rome Olympics in 1956 and 1960 respectively as well as in the Commonwealth Games in 1958. In 1963 he set up the '45 Aid Society for Holocaust survivors. He was awarded an MBE for services to the community, and the Polish Knights Cross, Order of Merit, and Commanders Cross, Order of Merit of the Republic of Poland for his work of reconciliation between Poles and Jews.
Jack Kagan
Jack Kagan is a Polish/British Holocaust survivor. Jack was imprisoned in a labour camp from where he and others organised a mass escape and joined the Bielskis, Russian Jewish partisans hiding in the forests and fighting the Nazis. The only survivor of his immediate family, Jack settled in England after the war.
Diane Lees
Diane Lees is the first female Director-General of the Imperial War Museum. Before that, she was the director of the Victoria and Albert Museum of Childhood. She is also Chair of the National Museum Directors' Council National Museum Directors' Council.
Samir Shah OBE
Samir Shah has been a leading figure in broadcasting for over 30 years. Since 2004 he has been Chief Executive of Juniper Communications which specialises in making factual programmes and drama documentaries. He is Deputy Chair and a trustee of the Victoria and Albert Museum and a fellow of the Royal Television Society.
Dr James Smith CBE
James Smith founded the UK Holocaust Centre in 1995. He founded the Aegis Trust in 2000, and, with the Foreign Office in 2002, staged the first major international conference on genocide prevention.
In 2004, working with the Rwandan government and Kigali City Council, he was responsible for establishing the Kigali Genocide Memorial in Rwanda's capital, at a site where some 250,000 victims of the 1994 genocide lie buried.
James visited Darfur in 2004 and was the first NGO head to call for its referral to the International Criminal Court. He has subsequently revisited both Sudan and South Sudan.
James is an author, editor and contributor to multiple films and publications on the Holocaust and genocide. He was awarded the CBE in 2014 for services to Holocaust education and genocide prevention.
Published 27 January 2014