Asian hornet outbreak contained in Gloucestershire and Somerset
An outbreak of Asian hornets in the South West has been successfully contained by the National Bee Unit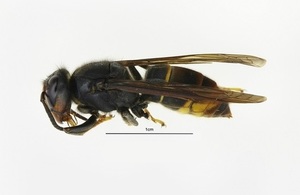 An outbreak of Asian hornets has been successfully contained by bee inspectors who promptly tracked down and destroyed their nest in Gloucestershire.
Asian hornets were first discovered in the Tetbury area in September, but the National Bee Unit moved swiftly to find the nest and remove it.
No further live Asian hornets have been seen since the nest was treated with pesticide and removed in early October.
Two dead Asian hornets were discovered in separate locations close by in north Somerset, but no nests or live hornets have been located by inspectors and there have been no further sightings.
Nicola Spence, Defra Deputy Director for Plant and Bee Health, said:
I am pleased our well-established protocol to eradicate Asian hornets has worked so effectively.

We remain vigilant, however, and will continue to monitor the situation and encourage people to look out for any Asian hornet nests.
As winter sets in, worker Asian hornets will begin to die as they cannot survive in the cold weather. However Defra remains vigilant, working closely with the National Bee Unit and their nationwide network of bee inspectors, as well as partners APHA and Fera.
Defra's success in locating the Asian hornet nest was thanks to its close working relationship with the National Bee Unit and the execution of the department's well-established plan. This included imposing a three-mile surveillance zone in Gloucestershire and Somerset, with bee inspectors scouring the area, using infrared cameras and traps to track the hornets and the nest. Defra also opened a local control centre to coordinate the response between the various agencies and teams involved.
Asian hornets pose no greater risk to human health than a bee, though they are a threat to honey bee colonies, which is why Defra took quick action to identify and destroy the nest.
The species arrived in France in 2004 and is now common across large areas of Europe. It was discovered for the first time in the British Isles in Jersey and Alderney this summer.
It is possible Asian hornets could reappear in England next year and members of the public are urged to report any suspected sightings in the spring.
Published 4 November 2016