News story
Armed forces flood relief work
Update on personnel from all 3 services providing flood relief in affected parts of the UK, including the south west and the Thames Valley.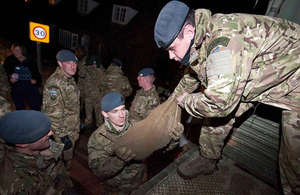 More than 2,000 servicemen and women have been committed to tasks, with thousands more at a state of high readiness to assist if required.
Military personnel remain embedded in various silver and gold command headquarters across flood-affected areas to facilitate emerging requests for assistance.
The Royal Air Force have also now flown missions with Tornado GR4 and Sentinel aircraft to capture optical and radar imagery to help the civilian authorities co-ordinate flood relief efforts with a view to preventing further flooding.
In the Thames Valley area, military personnel are supporting the civilian authorities in a number of locations.
In Berkshire, around 100 personnel from 1st Battalion The Royal Regiment of Fusiliers are still in Wraysbury, while more than 300 military personnel remain in Windsor, Datchet and Bisham.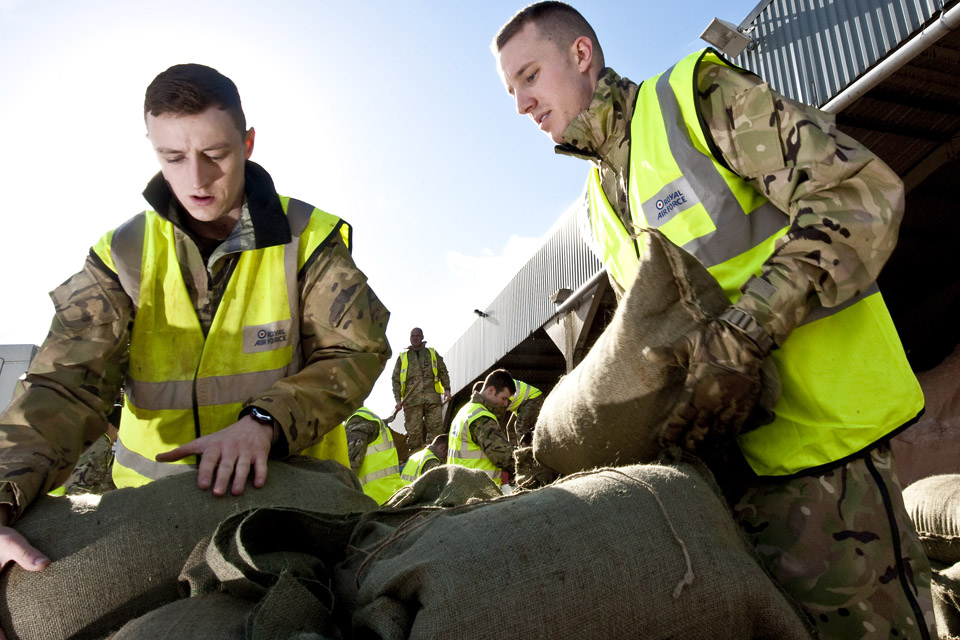 They are conducting a variety of tasks including filling and distributing sandbags, erecting barriers, assisting residents, examining the condition of existing flood defences and general duties in support of the emergency services.
In nearby Chertsey, personnel from 2nd Battalion The Royal Gurkha Rifles and the 2nd Royal Tank Regiment are assisting civil authorities in erecting a 600-metre 'Aquadam' flood barrier brought over from Sweden along the Chertsey Bridge Road.
In Reading, more than 30 personnel from 9 Theatre Logistic Regiment are creating a sandbag wall in Southcote Mill.
And, across Surrey, over 360 military personnel from 2nd Battalion The Royal Gurkha Rifles and 1st Battalion The Royal Welsh, as well as elements of both 19 and 47 Regiments Royal Artillery, have been assisting the multi-agency relief effort.
Other key military taskings over the last 24 hours have included completion of a sandbag wall to help defend Desborough Island and the ongoing assessment and protection of critical national infrastructure assets.
In addition, army personnel have been involved in assisting and evacuating vulnerable residents in the area.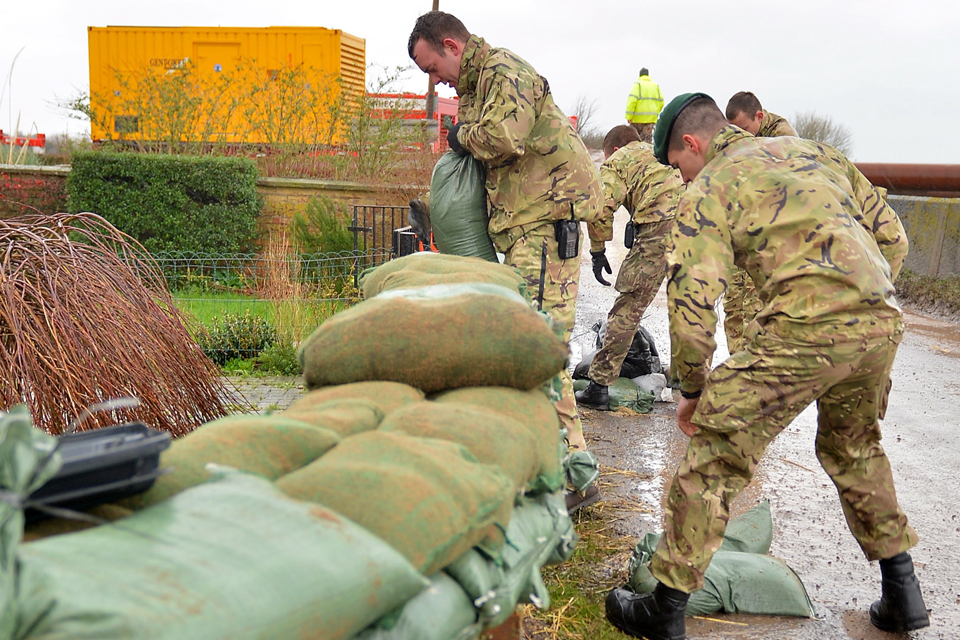 And in Croydon and Kenley, army personnel have been sandbagging and constructing flood defences with particular focus on protecting a water chlorination plant which is vulnerable to potential flooding.
In Chieveley, 80 members of the RAF are working to fill sandbags on behalf of the Environment Agency at a Highways Agency depot – more than 20,000 sandbags have already been filled at this site over recent days
Around 100 Royal Marines continue to work throughout the Somerset Levels moving and filling sandbags, filling 'Hesco' barriers, relocating pumps, and providing general support to the local authorities and emergency services.
Royal Marines from the same unit have also built flood defences in the Alney Island area of Gloucester.
There is also a military presence in Winchester in Hamsphire, where assistance is being provided to people whose homes have been affected by flooding.
And an army engineers dive team is available to assist with removing blockages from water courses.
Published 13 February 2014
Last updated 14 February 2014
+ show all updates
Updated with latest information
First published.