Press release
Alibaba and China Britain Business Council collaborate to remove counterfeit goods
China Britain Business Council and Alibaba agreement has resulted in the removal of £8 million worth of counterfeit versions of UK products.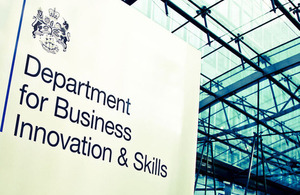 Close collaboration between the China Britain Business Council (CBBC) and Alibaba, China's most popular ecommerce website, has resulted in the removal of more than £8 million worth of counterfeit versions of UK products.
The agreement signed in September 2014 means that more than 25 UK businesses, including several large multinationals have been able to get counterfeit goods sold on Alibaba removed.
The announcement was made today (21 October 2015) by Intellectual Property Minister Baroness Neville-Rolfe at the UK-China Symposium. The symposium allows British and Chinese businesses to understand how they can effectively protect their IP. It takes place during China President Xi Jinping's state visit to the UK and highlights the importance both countries place on IP.
Intellectual Property Minister Baroness Neville-Rolfe said:
British products are in demand around the world because our firms invest heavily in creating highly original designs.

The removal of £8 million of counterfeit UK goods will protect the livelihoods of some of our most innovative firms and the jobs of British people. There is more work to be done but I am pleased that the UK is collaborating closely with Alibaba to find constructive solutions.

I am clear that the UK should be the most innovative place to do business and a strong IP system plays a big part in that. By continuing to work with China we can bring even more benefits to the UK.
David Ho, senior legal counsel, Alibaba Group said:
We are committed to the protection of intellectual property rights and the long-running battle to eradicate counterfeit merchandise that may appear on our marketplaces. We continue to work with rights holders to protect their IPR and welcome further collaboration with the CBBC and British companies going forward.
As part of the symposium, Baroness Neville-Rolfe also launched a toolkit which will safeguard £65 million per year in joint UK-China IP research and innovation. It provides a clear framework for negotiating how IP will be managed in joint research projects.
Baroness Neville-Rolfe said:
The risks associated with creating and licensing IP are perceived to be a major barrier limiting joint research and innovation between the UK and China. The UK-China Collaborative Research IP Toolkit will help non-IP experts to manage these risks and promote further collaboration between UK and Chinese institutions.

Projects involving international collaboration consistently produce better outcomes than when a single nationality works alone.

International licensing of research output also provides access to new revenue streams which directly contribute to the UK current account, enable our research base to expand, makes the latest findings available to innovation communities around the world and promotes the UK as a strong location for inward investment.
Based on the Lambert Toolkit, which was created to help manage IP in domestic collaborative research projects, the UK-China toolkit has been adjusted for both UK and Chinese law. It provides a clear framework for negotiating how IP will be managed in joint research projects.
Finally, Baroness Neville-Rolfe will announce the first wave of projects funded by the Arts and Humanities Research Council (AHRC) in Ningbo, China, which are implemented by a group of British and Chinese academics and will include industry input.
The AHRC has provided £500,000 in matched Newton funding to establish a China Digital Copyright and IP Law Research Centre at the University of Nottingham campus in Ningbo, China.
The projects cover the following areas:
IP regimes appropriate for internet-based technologies and new business models
3D printing
fair use of copyright in the digital domain
design intensive industries: designer awareness of IP and how an IP regime can evolve to meet designer needs
Baroness Neville-Rolfe said:
All countries face similar challenges adapting their IP systems to the digital age. This research centre will allow the UK and China to share their expertise and will create innovative approaches to tackling these issues, which will benefit UK businesses.
Notes to editors
Intellectual Property Office (IPO) is within the Department for Business, Innovation, and Skills (BIS) and is responsible for the national framework of Intellectual Property rights, comprising patents, designs, trade marks and copyright. The IPO's role is to help manage an intellectual property system that: encourages innovation and creativity, balances the needs of consumers and users, promotes strong and competitive markets and is the foundation of the knowledge-based economy.
The IPO operates in a national and an international environment and its work is governed by national and international law, including various international treaties relating to intellectual property which the United Kingdom is a party.
The Alibaba – China Britain Business Council agreement was signed in September 2014 and it has led to a number of benefits for British companies, including:

a criminal enforcement campaign covering 6 Chinese provinces, which dismantled a network producing counterfeit engine lubricants. The network recorded sales of £1.5 million in the past year alone and was uncovered by a joint operation between Alibaba, British businesses and Chinese law enforcement
upgrading Alibaba search filters to pre-emptively block copycat and infringing products from reaching consumers
solving dozens of other thorny problems brought forward by British companies, including guiding small and medium-sized enterprises through "Ali-Protect", Alibaba's in-house IP protection system.

The IPO has worked with Anjie Law Firm in China, as well as technology transfer and IP licensing experts from both the UK and China, to develop a toolkit that helps UK and Chinese universities and industry manage IP in collaborative research projects. The aim of the toolkit is to help non-IP experts to quickly and simply handle issues relating to the ownership and exploitation of any IP rights generated in collaborations. The toolkit comprises of model agreements in English and Chinese and guidance notes explaining both the UK and China context. The toolkit is based on the UK's Lambert toolkit and contains 9 model agreements.
The "Newton Fund" provides £200 million of funding to be invested in joint UK-China scientific research and innovation over the next 5 years. Details on the Department for Business Innovation and Skills Newton Fund
Published 21 October 2015