News story
Accounts filing deadline on 31 December 2014
If you're one of the 300,000 companies that must file their accounts by the end of the month, don't leave it to the last minute.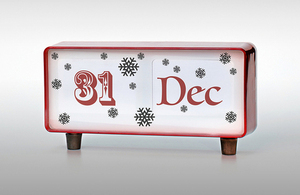 File early and file online
File online before the New Year's Eve deadline and enjoy the peace of mind that they've been filed on time - we'll send you an email confirming they've been received and another confirming if they've been registered.
It can take as little as 15 minutes from start to finish, so why bother with paper, envelopes, covering letters and the added uncertainty over whether the accounts will be delivered on time.
Watch a video on how to file abbreviated accounts online
Abbreviated accounts online filing video demonstration
Watch a video on how to file dormant accounts online
Dormant accounts online filing video demonstration
Avoid rejections
With in-built checks to make sure your accounts meet requirements, our online filing service helps you avoid rejections.
Submitted accounts may require manual checks that are only carried out during office opening hours.
It could be too late to avoid a penalty if your accounts are rejected and need re-submitting, so file well in advance of the New Year's Eve deadline to allow plenty of time to deal with a rejection should it occur.
Availability of online services
Companies House online services are available 24/7, but check that your company is registered for online filing and the accounts you wish to file are enabled on the service.
Who can't file accounts online
Online filing of accounts is not yet available for:
small companies who wish to file abbreviated accounts with a special audit report
medium sized companies taking disclosure exemptions
limited liability partnerships (LLPs)
community interest companies (CICs)
companies preparing IFRS accounts
Filing paper accounts
If you have to file your accounts on paper, it's still worthwhile filing them early using a guaranteed next day delivery service.
Due to the high volumes of post being handled by carriers during the holiday period, it's best to allow adequate time for their delivery.
Paper filed accounts require manual checks that are only carried out during office hours.
Paper accounts are not deemed filed until received in an acceptable form. If accounts submitted close to the deadline are rejected for amendment, there may be insufficient time to amend and return them.
A penalty will still be incurred if resubmitted accounts are received after the deadline, so file them early and allow time for this.
Accounts must be delivered in an acceptable form, on or before their due date. Delays in transit will not be accepted as an excuse for late filing. Even if accounts are delivered a day late, a penalty will be levied.
Filing accounts at our offices
Only our Cardiff office is manned for the receipt of documents for the entire holiday period. Letterbox facilities exist in London and Edinburgh, but not in Belfast.
Check our opening times over Christmas and New Year before filing your accounts at one of our offices.
Further information on accounts and penalties
Find out more about preparing your accounts or read detailed guidance on accounts.
Information is also available on late filing penalties.
Published 10 December 2014