News story
£5 million funding boost for English Heritage
Maria Miller sets out new vision for strengthening, protecting and promoting England's heritage for the public.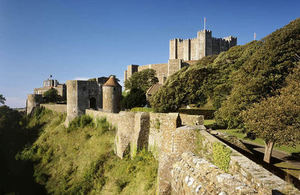 Culture Secretary Maria Miller today announced a further £5 million funding – on top of the £80 million already committed – to create a new charity arm of English Heritage to manage England's precious historic sites.
The new charitable status will give English Heritage freedom to raise funds, with a target of finding a further £83 million from third parties, allowing it to undertake a huge programme of conservation for properties and works to improve the visitor experience. English Heritage properties currently receive more than six million visits every year.
Maria Miller said:
The incredible buildings and places up and down our country are admired across the world and these proposals along with government's huge investment will enable English Heritage to look after and protect them for generations to come.
Have your say
English Heritage's current duties and responsibilities for advising on and helping to conserve England's wider historic environment will remain unchanged. These will be delivered under the new name of 'Historic England.'
Read details of the proposed changes to English Heritage and the way in which its more than 400 historic properties are managed, conserved and made accessible to the public in our public consultation.
Further information
Published 6 December 2013