Press release
English Heritage to get extra £5 million funding boost to set up new charitable arm
Maria Miller sets out a new vision for strengthening, protecting and promoting England's heritage and how the public enjoy it.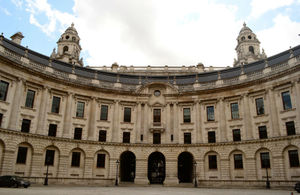 Culture Secretary Maria Miller today announced a further £5 million funding – on top of the £80 million already committed - to create a new charity arm of English Heritage to manage England's precious historic sites. And details of proposed changes to English Heritage and the way in which its more than 400 historic properties are managed, conserved and made accessible to the public were unveiled today in a public consultation paper.
The record government investment in the heritage sector will see a new charitable arm, retaining the name English Heritage, able to manage all of the historic sites, which will remain in public ownership.
The new charitable status will give English Heritage freedom to raise funds – with a target of finding a further £83 million from third parties. This will allow them to undertake a huge programme of conservation for the properties and works to improve the visitor experience. English Heritage properties currently receive more than six million visits every year.
English Heritage's current duties and responsibilities for advising on and helping to conserve England's wider historic environment would remain unchanged. These will be delivered under the new name of 'Historic England.'
The new funding underlines the Government's commitment to the heritage sector and will further protect the statutory functions of Historic England in these difficult economic timesCulture Secretary, Maria Miller said:
It is vital to champion and protect our precious history for this and future generations. Thanks to the record £80 million investment from the Government and the extra £5 million announced today, the new English Heritage charity will be able to raise third party funding more easily so that, within ten years, it will be self-financing and no longer depend upon support from the taxpayer.
The incredible buildings and places up and down our country are admired across the world and these proposals along with Government's huge investment will enable English Heritage to look after and protect them for generations to come. Warmly welcoming the proposals, Sir Laurie Magnus, Chairman of English Heritage said:
I am delighted that English Heritage has been awarded an £80 million one-off lump sum to invest in The National Heritage Collection. It will fund vital conservation work at our most vulnerable sites across the country and much needed improvements to our visitor facilities. It will help to boost local economies by creating jobs and enable us to nurture essential craft skills for the benefit of the entire heritage sector.
I am also delighted that the Government has endorsed a clear role for Historic England with its objective of championing our country's historic environment, demonstrating the vital part that the constructive conservation of our heritage contributes to the nation's welfare. Historic England will remain a non-departmental public body, providing impartial advice, expert research (including access to its extensive archives), grants to support heritage at risk and co-ordinating delivery of The National Heritage Protection Plan.
I would like to thank the Secretary of State for taking these proposals forward and for securing such a significant contribution from the Government towards our property conservation and improvement programme. I hope that everybody who cares about our heritage will respond to the Government's consultation paper.
English Heritage Chief Executive Simon Thurley added:
I welcome the Government's proposed New Model for English Heritage. It offers an opportunity for English Heritage to move forward with confidence and continue to deliver our important services both in leisure and tourism, and also in the vital job of ensuring that our nation's heritage continues to play a positive part in our future
Read the English Heritage New Model Consultation.
Notes to Editors
The Department for Culture, Media and Sport has responsibility within government for protecting, conserving and providing access to the historic environment in England.

The decision to award £80 million funding to create the new model for English Heritage was announced in the Spending Review on 4 July 2013 .
Press Enquiries: 020 7211 6276 Public Enquiries: 020 7211 6200 Out of hours telephone pager no: 07699 751153
Published 6 December 2013