Case study
Women's rights in India
A case study on women's rights in India from the 2013 Human Rights and Democracy Report.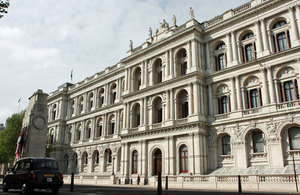 In 2013, the Indian government took positive steps to improve the lives of women and girls. Between 2011 and 2013, India improved its ranking from 113th to 101th in the World Economic Forum's Global Gender Gap Report. However, inequality, discrimination and domestic violence are still pervasive, particularly in India's poorest states. Indian government data indicates that 35% of Indian women between the ages of 15-49 have experienced physical violence.
Following the Justice Verma Committee recommendations (established by the Indian government to review the capacity of India's institutions to deal with crimes against women), the Indian parliament passed the Criminal Law Bill, which aims to strengthen India's laws on violent crimes against women. The bill seeks to penalise public servants who fail to discharge their duty relating to sexual offences, and contains new penalties for acid attacks, stalking, groping and voyeurism. However, a number of provisions under this new legislation carry the death penalty as a sentence so, while we welcome a tough approach for such serious crimes against women, we continues to oppose the death penalty in all circumstances.
The Indian authorities have continued to introduce fast-track courts and expand public safety measures, including the introduction of help-lines and the installation of CCTV on public transport. In addition, special police stations, staffed only by female police officers, have been set up to encourage women to come forward and report crimes.
The UK government has continued to be involved in a range of activities to support women's rights in India. This has included a number of projects focusing on empowering women, the legal status of women, and combating sex trafficking.
The UK works with other partners to support women who are primarily the victims of trafficking. This includes the "Stop Trafficking" web portal. This portal was launched two years ago, and has registered hundreds of trafficking cases, resulting in a number of victims being found. The site is improving the exchange of information between various bodies dealing with combating trafficking, including government, law enforcement agencies and NGOs.
The UK has funded projects that are raising awareness of the rights of Muslim women in the states of Maharashtra and Assam, and in Andhra Pradesh through the funding of self-help groups, which are an important means of empowering women.
DFID's programme in India is aimed at helping girls stay in secondary school, thus pushing back the age of marriage. DFID is also investing in interventions that reinforce each other and deliver in the long term: family planning, health and nutrition, microfinance, and skills for jobs.
DFID's wider programme continues to support a range of human rights-related activities in India that have a positive impact on the lives of women and girls. This includes support for government education and health programmes that help to deliver India's Right to Education Act and the Domestic Violence Act. On the Domestic Violence Act, this includes training protection officers and improving help-lines and victim support services.
Through the EU, the UK government has also engaged the Indian government on women's rights, most recently at the EU–India human rights dialogue, which took place in Delhi on 27 November 2013.
The UK government is committed to supporting the Indian government on women's rights, including offering UK experience and expertise where appropriate.
Published 10 April 2014