Case study
Country case study: Bangladesh – political violence
A country case study on political violence in Bangladesh from the 2013 FCO Human Rights and Democracy Report.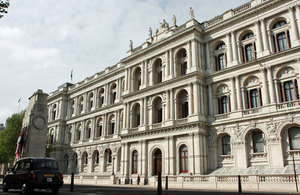 Bangladesh's 9th Parliamentary elections, in December 2008, restored democracy to the country after nearly two years of military-backed caretaker government. The following five years saw Bangladesh make great progress in economic and social development. However, a confrontational and violent political culture saw little meaningful reform. As a result, the build-up to Bangladesh's 10th Parliamentary elections, held on 5 January 2014, was marked by deplorable levels of violence, intimidation, and economic disruption (enforced general strikes and transport blockades), as parties failed to reach consensus on electoral arrangements.
NGOs suggest over 500 people lost their lives in political violence in Bangladesh in 2013, with many more seriously injured. 215 were reportedly shot dead by law enforcers. Minority communities were once again the targets for vandalism and intimidation. Attacks on property and public transport instilled fear into ordinary citizens who also suffered most from a series of enforced national strikes and transport blockades called by opposition parties. As disruption increased, significant numbers of opposition politicians faced arrest and some restrictions were placed on the right to assembly. Allegations of extra-judicial killings and enforced disappearances continue to be made.
We have repeatedly condemned all forms of violence and excessive use of force. This includes during Baroness Warsi's February visit to Bangladesh and public statements by our High Commissioner on 3 March and by Baroness Warsi on 14 March – in the wake of violence following verdicts announced by the International Crimes Tribunal. We also expressed our significant concerns over violent demonstrations and the use of excessive force in dispersing these demonstrations. In our national statement at Bangladesh's Universal Periodic Review (UPR), at the UN Human Rights Council on 29 April 2013, we urged the government and opposition to refrain from violence. At the UPR we also recommended that the government of Bangladesh thoroughly investigate and, if credible evidence emerged, prosecute all allegations of human rights violations, including disappearances, custodial torture and extra-judicial killings.
In addition to public messages, and action taken in coordination with the EU, we take every opportunity to raise our concerns with both the government and opposition parties in private, most recently during Baroness Warsi's visit on 12 December. The Foreign Secretary also raised our concerns with Prime Minister Hasina when they met in London in July.
Peaceful credible elections that express the genuine will of voters are the true mark of a mature, functioning democracy. To strengthen democratic accountability and improve the long-term stability of Bangladesh, the parties need to put an end to the destructive five-year cycle of one–sided elections, boycotted parliaments, and culture of political violence.
Published 10 April 2014