Case study
Supporting survivors of sexual violence in Colombia
A case study on supporting survivors of sexual violence in Colombia from the 2013 FCO Human Rights and Democracy Report.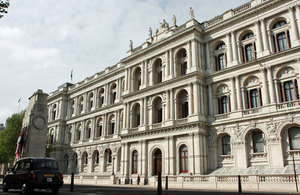 In Colombia we are funding grassroots organisations, Liga Internacional de Mujeres por la Paz y la Libertad (LIMPAL) and Casa Amazonia, which are working to provide support to survivors of sexual violence in three areas of Colombia affected by conflict.
They are working with indigenous communities and local government authorities to ensure survivors of sexual violence receive appropriate and coordinated support. They will provide local women's organisations with training to assist survivors in accessing the support they need, including access to justice.
The project is being implemented in partnership with a number of government agencies, including the Presidential Programme for Human Rights and the Colombian Institute for Family Welfare, to ensure wider national impact and longer-term sustainability.
Published 10 April 2014