Case study
Bahrain - Country case study update
A country case study update on Bahrain which forms part or the 2013 Human Rights and Democracy Report.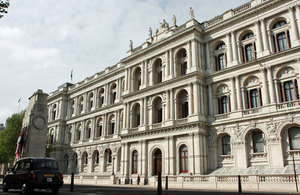 Between April and September, the UK remained fully engaged with the government of Bahrain on human rights issues, including through high-level ministerial meetings. UK technical assistance to Bahrain's reform programme continued. Although there are still significant issues to be addressed, there is evidence of real efforts being made in areas where human rights concerns remain.
In June, the then Minister for the Middle East and North Africa, Hugh Robertson, visited Bahrain for the third meeting of the UK-Bahrain Joint Working Group, to discuss the UK's ongoing support to Bahrain's reform programme, with particular focus on strengthening human rights and the rule of law. During the visit he also met His Majesty King Hamad, His Royal Highness the Crown Prince, senior ministers, government officials, and a wide range of representatives from opposition and loyalist political societies, MPs, human rights defenders and civil society groups, to hear their views on the political and human rights situation.
On 10 June, the UK, along with 45 other states, signed a Joint Statement on Bahrain at the UN Human Rights Council in Geneva, recognising the positive steps taken by the government of Bahrain in order to improve the human rights situation, but also highlighting remaining areas of concern.
We welcome the first annual report by the Ministry of Interior's Ombudsman's Office in May, which detailed the volume and breadth of cases they have dealt with since its inauguration in July 2013. The report made important recommendations relating to addressing prison overcrowding; separating 15- to 18-year-olds from the adult prison population; the development of appropriate search procedures; the installation of CCTV cameras throughout prisons; and the improvement of prison healthcare arrangements.
Following this, the Prisoners' and Detainees' Rights Commission (PDRC) released their first report in August, following their unannounced inspection visit to Dry Dock Detention Facility, during which they were granted full access to the detainees, facilities and records.
Both reports made a number of recommendations in order to improve policing practice, prison conditions and the safeguarding of human rights, which we believe should be implemented promptly by the Ministry of Interior. In particular, the current arrangements for the management and rehabilitation of juveniles in the justice system need to be addressed. We welcome evidence of Bahrain's commitment to improving prison conditions with a new women's prison now operational, and a new build programme commenced at Jau prison.
On police accountability, the Ombudsman referred seven complaints to the Public Prosecution's Special Investigation Unit in June. Accountability of the security forces remains crucial. We have raised our concerns about continuing allegations of mistreatment and torture with the government of Bahrain, and urge it to ensure all allegations are fully and transparently investigated, with those responsible held accountable. Over the last year, steps have been taken by the Bahrainis to put in place forensic training and service development support, to increase the capacity to deliver high-standard criminal investigations, and removing the dependence on confessions. In addition, with UK funding, Northern Ireland Cooperation Overseas (NI-CO) has been providing capacity-building support to the Ombudsman's Office and UK-based training to the PDRC through Her Majesty's Inspectorate of Prisons (HMIP), in order to increase the accountability of, and public confidence in, these two institutions.
In June, the Bahraini Parliament passed a new law to grant wider responsibilities to the National Institute for Human Rights (NIHR) to investigate human rights violations and inspect detention places. Subsequently, the NIHR published its first report in September which identified a number of perceived shortcomings and made a series of recommendations, including the ratification of the Optional Protocol to the Convention Against Torture and the transfer of responsibility for detention and rehabilitation to the Ministry of Justice. Bahrain's leadership publicly accepted the report and praised its comprehensive objectivity. The report also made recommendations on the judicial system; whilst considerable efforts are being made to build trust in a fair and equitable justice system, the inconsistency and apparent inequality in sentencing has the potential to undermine this work. We welcome the NIHR report as an important benchmark for taking forward further human rights reform, and we encourage the government of Bahrain to consider the report and its recommendations carefully.
In some areas, freedom of speech and expression continue to be constricted, for example where individuals are convicted for inciting illicit activity and spreading false information. We remain concerned by the 2013 decree on contacts between political societies and foreign parties, which was enforced for the first time in July. With UK funding, the Causeway Institute for Peace-building and Conflict Resolution has been working with local NGOs and youth societies to promote responsible freedom of expression.
During this reporting period, the government of Bahrain has taken positive steps to increase engagement with the UN and international NGOs, which demonstrates a level of transparency. We welcomed the visit by Amnesty International in March and the two-month technical visit by the UN Office of the High Commissioner on Human Rights (OHCHR) in April; we hope Bahrain will agree to accept the full technical assistance package offered by OHCHR. We have continued to encourage the government to reinstate the visit by the Special Rapporteur for Torture, Juan Mendez, as well as visits from other UN officials and Special Rapporteurs.
In September, the government of Bahrain presented an update on implementation of its UN Universal Periodic Review (UPR) recommendations at the UN Human Rights Council (UNHRC) in Geneva. Whilst it is clear that progress has been made in a number of areas, there is still more to be done.
During the September session of the UN Human Rights Council, we welcomed some of the steps taken by Bahrain (e.g. on developing the NIHR), but encouraged the government to enhance its cooperation with OHCHR and UN officials and Special Rapporteurs, accepting the full OHCHR offer of technical assistance. For the remainder of 2014, through diplomatic and technical assistance, we will continue to play our part in supporting Bahrain's reform programme, and in addressing the remaining recommendations of the UPR and Bahrain Independent Commission of Inquiry.
We strongly support the King's announcement on 21 September to hold parliamentary elections in November, as one of only a few countries in the region to do so, and have been actively encouraging all sides to engage in the process. The EU has expressed similar support and encouragement.  
Invite others to read and comment on the report
We want to encourage discussion of this report and our human rights work, so if you have a blog or website, please add a link from your site through to the sections you are interested in.
Keep up-to-date with FCO's human rights work
You can follow us on our human rights Twitter channel @FCOHumanRights, and subscribe to receive our human rights news via email. You can also find detailed information on our human rights work on other areas of this website. In addition, you can also listen to or subscribe to our human rights podcasts via RSS or iTunes.
Published 16 October 2014