Case study
Country case study: Nigeria – the response to terrorism
A country case study on the response to terrorism in Nigeria from the 2013 Human Rights and Democracy Report.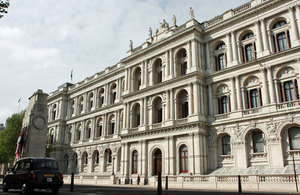 We have concerns regarding a number of human rights issues in Nigeria. 2013 saw the fight against Boko Haram intensify, with the government's respect for human rights coming under further criticism; the resumption of the use of the death penalty; and a legislative attack on the rights of LGBT people in the Same Sex Marriage Prohibition Act.
The UK's most pressing concerns relate to the Nigerian government's response to the terrorist threat from Boko Haram. The heavy-handed security response, especially in the north, has resulted in allegations of serious human rights violations by the security forces. These include the razing of homes in communities suspected of harbouring Boko Haram, and extra-judicial killings and torture, for which there is widespread impunity. The mistreatment by the Nigerian Army of detainees in military detention centres was highlighted in reports by Amnesty International and Human Rights Watch. Nigeria's President has acknowledged the need to address these issues. While we recognise that the Nigerian government has both a right and responsibility to defend its people from terrorism, it must ensure that its response respects human rights, and that those involved in human rights abuses are brought to justice. We have raised our concerns at the highest levels of the Nigerian government and called on them to take action. We reiterated this message at the UN Human Rights Council's Universal Periodic Review of Nigeria in Geneva in October 2013.
Since October 2013, improvements within military-run detention facilities appear to be taking place. We continue to encourage the Nigerian government and its security forces to uphold human rights standards.
As a result of the escalation in fatal terrorist attacks in North Eastern Nigeria by Boko Haram against civilian, official and military targets, various NGOs have listed serious human rights abuses by Boko Haram, including the abduction of women and children, the execution of those suspected of aiding the authorities, and fatal attacks on schools and colleges. An Amnesty International report in 2013 highlighted Boko Haram attacks against Nigerian educational establishments.
Furthermore, a report by the International Criminal Court in 2013 stated that "there is a reasonable basis to believe that crimes against humanity have been committed in Nigeria, namely acts of murder and persecution attributed to Boko Haram".
Published 10 April 2014