Case study
Rwanda - Country case study update
A country case study update on Rwanda which forms part or the 2013 Human Rights and Democracy Report.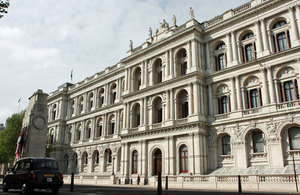 2014 marks the twentieth anniversary of the 1994 Rwandan genocide, a tragedy during which over a million people lost their lives. On 7 April, the then Foreign Secretary, William Hague, attended commemorations in Kigali in order to pay tribute to the victims of the genocide, and to demonstrate the UK's commitment to Rwanda and the Great Lakes region.
Rwanda's progress on economic and social development remains impressive. However, the UK continues to have concerns about human rights, and civil and political rights in particular. We continue to urge the Rwandan government to address human rights concerns such as freedom of expression, and to ensure that political space is opened.
The UN Special Rapporteur on the rights to freedom of peaceful assembly and of association, Maina Kiai, presented a report to the UN Human Rights Council in June, expressing concern about the prevailing opposition to vigorous debate and free expression of opinion in Rwanda. Kiai's report makes almost 40 recommendations aimed at government, civil society, and the international community. The UK is taking steps to implement the recommendations addressed to the international community, and urges the Rwandan government and civil society to implement the recommendations directed at them.
Bernard Ntaganda, leader of opposition party PS-Imberakuri, was released from prison in June. He had been incarcerated for four years after being found guilty of endangering state security. At the time of his arrest, Amnesty International called for his release, saying that he had been detained on political grounds for criticising government policy. Ntaganda says that he was mistreated while in prison. The Director of Mpanga Prison has denied this. We continue to engage with Ntaganda and to monitor the situation of other imprisoned political leaders and activists, including Victoire Ingabire and Sylvain Sibomana, both of the FDU Inkingi opposition party.
In August, a court in South Africa found four men guilty of the attempted assassination of former Rwandan Army Chief of Staff, Kayumba Nyamwasa. The UK is deeply concerned by what appears to be a succession of acts of violence against Rwandan opposition figures.
The trial of Joel Mutabazi and fifteen other defendants concluded on 3 October. Mutabazi was sentenced to life in prison. He has appealed and continues to argue that his forcible return from Uganda did not respect due process. The 15 co-accused received sentences ranging from five to 25 years. The UK recognises that Rwanda has the right to prosecute those who seek to use violence against the state. We call on the Rwandan authorities to ensure that due legal process is followed.
Kizito Mihigo was arrested on 14 April with two others. They have been charged with various offences against state security, including collaborating with the Democratic Forces for the Liberation of Rwanda (FDLR), an armed group in eastern Democratic Republic of Congo with origins in the Rwandan genocide, and the Rwandan National Congress, an opposition group in exile in South Africa. As with the Mutabazi case, we call on the Rwandan authorities to ensure that due legal process is followed. The UK notes that two police officers were arrested in September 2014 in connection with the July 2013 murder of Gustave Makonene, a Transparency International employee.
The UK remains concerned by reports of bodies wrapped in plastic being found over the summer months in Lake Rweru, on the border between Rwanda and Burundi. The British High Commission in Kigali has visited the lake. The UK calls on the Burundian government to carry out a thorough and impartial investigation. We also call on the Rwandan government to cooperate with any such investigation.
Invite others to read and comment on the report
We want to encourage discussion of this report and our human rights work, so if you have a blog or website, please add a link from your site through to the sections you are interested in.
Keep up-to-date with FCO's human rights work
You can follow us on our human rights Twitter channel @FCOHumanRights, and subscribe to receive our human rights news via email. You can also find detailed information on our human rights work on other areas of this website. In addition, you can also listen to or subscribe to our human rights podcasts via RSS or iTunes.
Published 16 October 2014