Case study
The plight of the Rohingya
A case study on the plight of the Rohingya from the 2013 Human Rights and Democracy Report.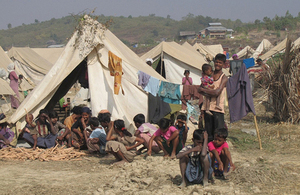 The Rohingya community, who have lived in Burma for several centuries, have experienced a long history of discrimination. Burma does not formally recognise the Rohingya as one of its 135 ethnicities, and this has contributed to an intensification of prejudice against them, resulting in a denial of the most basic rights, a withholding and withdrawal of citizenship for many who are otherwise eligible, and a campaign of violence and intimidation. Approximately one million people in Burma identify themselves as Rohingya, but exact numbers are unknown.
In 2012, outbreaks of violence between Rakhine Buddhists and Muslim Rohingya in Rakhine State led to the displacement of over 140,000 people, mainly Rohingya. They remain in camps, where they suffer from severe restrictions on their freedom of movement, denying them access to livelihoods, schools, health facilities and places of worship. There are increasing signs of further and permanent segregation between the two communities. A long-term solution to the situation in Rakhine will not be found until the issue of citizenship is resolved and prejudices and support for discriminatory policies are confronted. The citizenship verification process for the Rohingya, which could have helped to improve their human rights and status, stalled in 2013.
In Rakhine State, the UK Government has provided £6.4 million in humanitarian aid and around £4.5 million in livelihoods projects. We continue to lobby intensively on the situation in Rakhine State: discussions on the Rohingya were at the top of the agenda when the Prime Minister and President Thein Sein met in London in July. We urge the Burmese government to take swift and decisive action to protect the lives and rights of Rohingya and other minorities in Rakhine State, and to address the underlying causes of ethnic and religious discrimination and violence. This includes addressing impunity and ensuring equitable access to justice, promoting coexistence and tolerance, creating an environment for displaced people to return to their homes, ensuring humanitarian access, and enabling a path to citizenship for eligible Rohingya residents of Rakhine State. Without positive action, the situation in Rakhine risks jeopardising the wider Burmese reform process.
The treatment of the Rohingya has wider regional repercussions and has led to an increase of refugees. According to the UN Refugee Agency (UNHCR), an estimated 24,000 people left Rakhine State by boat from January to August headed to Thailand, Malaysia and Indonesia.
As of December, 131,387 Burmese refugees and asylum-seekers had been registered with UNHCR in Malaysia, of whom 32,611 are Rohingya. UNHCR also note a large number of people of concern who remain unregistered.
The status of Rohingya refugees transiting Thailand has also come under particular scrutiny. In early 2013, several thousand Rohingya were arrested and detained, some in extremely cramped and unsanitary conditions. Media and NGO reports alleged that Rohingya refugee boats were towed out to sea, boats were shot at, Rohingya were smuggled, and some officials were handing Rohingya to human traffickers. Local journalists are facing criminal defamation charges in Thailand for citing one of these reports.
The Thai government has granted temporary protection status to detained Rohingya and cooperated with UNHCR and international humanitarian organisations to assist them and improve detention conditions. It has committed to investigate allegations of wrong-doing. The UK continues to encourage Thailand, through ministerial and senior official dialogue, to abide by international protocols governing the treatment of refugees, by offering protection and assistance, and to work regionally to find a sustainable solution.
Rohingya in neighbouring Bangladesh are also vulnerable. In addition to approximately 25,000 officially recognised refugees, Bangladesh hosts over 200,000 undocumented Rohingya.
Published 10 April 2014