A case study on the the Rana Plaza disaster in Bangladesh from the 2013 Human Rights and Democracy Report.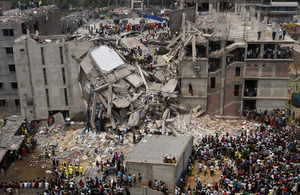 Bangladesh's ready-made garments sector accounts for 80% of the country's exports and employs over 4 million people, nearly three-quarters of whom are women. It is estimated that the garment industry supports a further 25 million people and has played a pivotal role in the country's development.
On 24 April 2013, an eight-story commercial building, Rana Plaza, collapsed just outside Dhaka. The building contained five clothing factories: most of the people in the building at the time were garment workers. Over 17 days of search and rescue, 2,438 people were evacuated, more than 1,100 people died, and many more were left with life-long debilitating injuries.
In line with our action plan on business and human rights, we are engaging with the government of Bangladesh and UK companies and their supply chains, in order to help address key human rights risks.
The UK response has focused on building safety; improving working conditions; improving communications between owners and employees; and urging UK buyers to take responsibility for their supply chains from the store right back to the sewing machine.
On a practical level, the UK, through DFID, is providing up to £4.8 million for a three-year programme by the International Labour Organisation to support the National Action Plan on Fire Safety and Structural Integrity. This support will allow for the inspection of approximately 1,500 factories that are not covered under the new international fashion retailers' and brands' initiative, the strengthening of the labour inspection regime, the provision of safety awareness training for factory workers and managers, the launch of the "Better Work" programme in Bangladesh, and help for victims in recovering from these disasters.
DFID has also made £1.8 million available to the Trade and Global Value Chains Initiative to support partnerships between buyers, factory owners, civil society and others, in order to improve garment factory conditions in Bangladesh. Projects selected so far include work with individual factories to demonstrate how improved working conditions and increased productivity can go hand in hand, and the improvement of health provision in these factories.
The UK has also launched an £18 million programme to improve private sector skills training in the garment and construction sectors. Through dedicated projects, the UK will continue to support the garment sector, which plays a fundamental role in social change and women's empowerment.
Published 10 April 2014