Case study
Success story: nanoceramics could cut UK's lighting bill by 20%
Cambridge Nanotherm ramps up production of technology that creates cooler, brighter lights lasting twice as long as conventional LEDs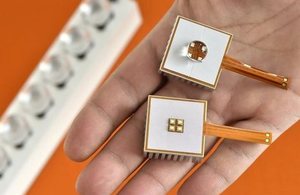 Suffolk-based Cambridge Nanotherm (CNT) went from start-up to full-scale manufacturing in only three years with help from Innovate UK.
CNT's novel electrochemical process results in improved LED lights that could help cut the 20% of energy in the UK currently used for lighting.
It now has a manufacturing plant that can produce more than 300,000 units a year. CNT is predicting turnover in excess of £2 million by mid-2015.
That is rapid progress for a company that still has only 11 employees. Founder and chief technical officer Dr Pavel Shashkov said:
We really started from scratch, from an electrochemical process that you can't see or touch and we have ended up with a plant in just three years.
LED lights are more efficient and last longer than other types of lighting. But even LEDs turn only 25% of the power they use into light; the rest is given off as heat.
Electrochemical process
The technology developed by CNT reduces the working temperature of LED lights by 15-25⁰C, increasing their lighting efficiency by up to 20% – and doubling their life.
CNT spent years developing a novel electrochemical process to manage heat produced in electrical devices. Aware that LEDs dissipate heat through the substrates on which they are mounted, their innovation uses nanoceramic aluminium that offers twice the thermal conductivity of competing products.
"The very first prototypes which started the life of this company were backed by Innovate UK," said Pavel. CNT entered a feasibility studies competition for Technology Inspired Innovation and were awarded £25,000 to work with LED lighting specialist Juice Technology to develop a prototype. Pavel added:
Juice measured it using their equipment and found that they got more than 20⁰C of temperature reduction. That meant a quadrupled lifetime of the LEDs.
Investment from venture capital company Enso funded more prototypes to test with major players in the UK and European LED lighting market. "We had really good feedback," said Pavel. "That enabled us to turn to the shareholders and say: 'Now we need a manufacturing line'."
CNT joined forces with Innovate UK again in 2013, being awarded £250,000 towards total costs of £768,764 for a 12-month 'development of prototype' project under the Smart programme.
Less than a year later, CNT opened its first production line. In June 2014 they won the first order from Optocap, an advanced microelectronic and optoelectronic packaging design and assembly company. The response from prospective customers has been so good that CNT is already looking at expanding its production facilities.
"That is the plan, to move to mass production," said Pavel. If all goes as predicted, that will also mean increasing the size of its team to 30 by 2017.
CNT was awarded a additional £100,000 in 2014 for a 12-month Smart proof of concept project to develop more products, including a direct metallisation process which could create a unique, highly thermally efficient, substrate material for the electronics industry.
Pavel is certain that CNT would not be where it is without Innovate UK:
Its role cannot be underestimated. Probably if we were doing it without Innovate UK we would be less than halfway to where we are today.
Published 3 July 2015