Case study
Crowd Connected strikes the right note with music festivals
Innovate UK connects Surrey-based digital startup with global festival producer Live Nation to launch novel audience mapping technology.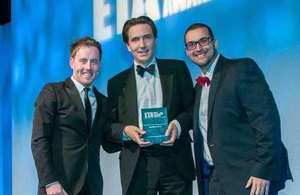 A Guildford-based startup has grabbed the attention of music festival organisers around the world with an award-winning, location-based technology that takes audience engagement to new levels.
Crowd Connected has developed its 'colocator' system to capture and aggregate data from festival-goers' smartphones through a software development kit that can be incorporated into festival apps.
It means that organisers and venue operators have an accurate, real-time map of crowd density and behaviour and can immediately redeploy staff and resources to improve customer service and safety. They can also improve targeting of promotions and marketing.
After being tested at Live Nation's Wireless Festival 2014, colocator has featured at other major events and festivals, including Reading and in the US. Crowd Connected also won three of the 2015 Event Technology Awards, including best new tech startup.
The big break for founder-CEO James Cobb came in spring 2014 when he won an Innovate UK competition run through the IC tomorrow programme programme. The prize was a £25,000 grant and the chance to trial his innovation with international concert producer Live Nation Entertainment.
Major event producer signed up as partner
James and his small team at Surrey Research Park had just eight weeks to get their technology ready:
We had to have a system that would cope with mobile devices going off-line and back on-line. There were a lot of people who told me it would not work. We proved that it would.
For us, the most crucial part of the Innovate UK IC tomorrow competition was not the funding but the fact that it came with Live Nation signed up as a partner – and a commitment that they would trial what we were proposing.
James already had contacts with Live Nation but admits that he could not have extracted that commitment on his own:
That was absolutely critical. Without that proof-of-concept we wouldn't have done follow-on projects with Festival Republic at Reading and with Goldenvoice in Seattle and Los Angeles.
Support from the Digital Catapult
The secret lies in using a range of systems to determine location – through GPS, Bluetooth beacons, Wi-Fi, and signals between the phones themselves, even when they are disconnected from a network.
The technology has also been used outside of music and festivals, at the recent Baku European Games, for example.
Crowd Connected has had support from the Digital Catapult Centre to build connections with potential partners and customers as James looks at other markets, especially exhibitions, trade fairs and corporate events.
There's a huge market there, probably worth $1 billion. And we're also starting to have conversations in the construction industry, in transport and in retail.
Published 26 November 2015