Case study
Shrinking space for civil society in Eastern Europe and Central Asia
A thematic case study from the 2014 Human Rights and democracy Report.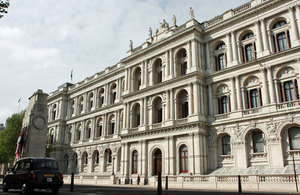 The space for civil society across Eastern Europe and Central Asia has been under increasing pressure for several years. While there have been some positive developments in the region (for example in Ukraine, grassroots organisations are becoming more active),this year saw an accelerated deterioration. While it is difficult to be certain of the reasons, it is likely that events in Ukraine were central, with several countries in the region claiming that Western influence and civil society had played a key role in sparking unrest.
Action against civil society focused on three main areas:
Constraining NGO activity
Russia's "foreign agents" law, which requires NGOs that receive foreign donations, and engage in vaguely defined "political activities", to register as foreign agents, served as a model for other countries in the region to bring in restrictive legislation in 2014.
Azerbaijan amended its law on NGOs twice, requiring NGOs and foreign donors to register with the state and gain state approval before any activities can be carried out. In Tajikistan, a similar "foreign agents" bill is under consultation. Kyrgyzstan also tabled legislation in this area, although this has not passed into law.
Turkmenistan and Uzbekistan continued to have extensive restrictions on civil society. In Kazakhstan, maintaining space for civil society will depend on how recent legislation on freedom of expression, association and access to information is implemented.
Freedom of the media
While the media in some countries in this region continued to be ranked as partly free by Freedom House (Armenia, Georgia, Moldova, Ukraine and Kyrgyzstan), 2014 saw new restrictions imposed in several other countries.
In Belarus, new legislation required mass media to register, with the law allowing the government to block online sites if they "publicise messages which are prohibited or limited by law". In a recent example of its use, the government blocked a number of media websites for reporting on the currency crisis on 20 December.
Freedom of the media also came under increasing stress in Azerbaijan, where several journalists were detained in 2014. Amongst them was investigative journalist Khadija Ismayilova, whose arrest drew widespread criticism from local and international NGOs. In December, Azerbaijan's parliament passed amendments to a media law which allow courts to shut down a media outlet receiving funding from abroad. The government used this law to close the Azerbaijani branch of Radio Free Europe on 26 December.
Journalists also came under increased pressure in Tajikistan, where the government used slander legislation to bring cases against independent media. The government also frequently blocked access to social media, although international news websites could be freely viewed. In Russia, independent media outlets came under more pressure, and a number of journalists were dismissed or physically attacked after reporting views which were not those of the state.
Dunja Mijatović, the OSCE's (Organisation for Security Cooperation in Europe) Representative on Freedom of the Media, described restrictions on bloggers in Uzbekistan as breaching international standards on free speech. She expressed concerns that, while new legislation in Turkmenistan might allow more internet access, it could also limit free expression on the web.
Freedom of assembly
Freedom of assembly came under increased pressure in 2014. For example, in Armenia the police restricted freedom of assembly through the use of force and detention of activists. In Belarus,the use of preventative arrests increased, particularly in the run-up to major events – in May approximately 40 people were arrested ahead of the Ice Hockey World Championships. Freedom of assembly in Turkmenistan and Uzbekistan also remained extremely restricted.
UK actions
The UK continued to raise concerns about human rights bilaterally with the governments concerned, in multilateral fora and through other channels. For example, the FCO Minister for Europe, David Lidington, raised concerns about freedom of expression, and stressed the importance of a free media in Eastern Europe and Central Asia in his blog to mark Human Rights Day. In 2015, the UK will launch a campaign throughout the Eastern Europe and Central Asia region, promoting the importance of freedom of expression and the media.
Published 12 March 2015