Case study
Promoting reform of children's rights in the Falkland Islands
A case study from the 2014 Human Rights and Democracy Report.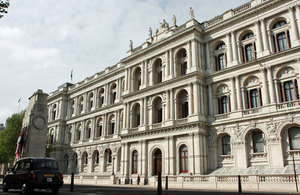 The rights of children have been the primary focus of work in the Falkland Islands, which has included the creation of several key roles. For example, a Children's Champion was appointed in the island's Legislative Assembly for the first time to ensure that the well-being of children and their families is taken into account in the formulation of government policy. The initiative was supported by the appointment of a specialist child care lawyer by the Attorney General and the permanent appointment of a probation officer on the islands.
The law relating to children was reviewed and updated resulting in a new Children Ordinance with clear duties on the part of the government to provide support and assistance for children in need. The geography of the islands and movement of workers between the Falklands and St Helena, in particular, often results in private arrangements to allow children to attend school in the capital, Stanley. New provisions were introduced under the Ordinance to monitor and safeguard children living away from home under such arrangements. The Falkland Island Safeguarding Children Board was also placed on a statutory footing and has conducted a child sexual abuse awareness campaign and a comprehensive revision of safeguarding procedures. A new protocol for responding to unexpected child deaths was also developed.
The Falkland Islands' government has also invested in capacity building in order to embed human rights in operations and improve public sector delivery. For example, training has been delivered across agencies to promote effective inter-agency working. Police and prosecuting authorities are also working together to ensure that investigations are robust and that timely prosecutions are bought in relation to suspected offences committed against children.
The Falkland Islands has sought to promote collaboration between the other Overseas Territories to improve child safeguarding practice across the territory network. This includes improving the effectiveness of information-sharing to prevent the movement of offenders across borders and strengthening the ability of the territories to achieve safe recruitment into posts working with children. This initiative was presented by the Falkland Islands at the Attorneys General conference in November.
A child safeguarding expert and police advisor from Lucy Faithfull Foundation will carry out a further independent review in 2015 of progress against the recommendations made in the Child Safety Review funded by the Falkland Islands government and the Foreign & Commonwealth Office (FCO) in 2013.
Published 12 March 2015