Case study
The World Cup and human rights in Brazil
A case study from the 2014 Human Rights and Democracy Report.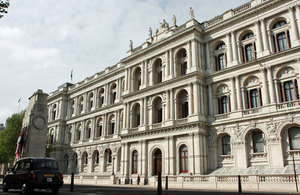 The 2014 Football World Cup put Brazil under the spotlight, including the human rights concerns attached to an event on this scale.
A number of specific concerns came to the fore: during construction of the venues nine workers died, highlighting concern about safety standards, and the National Coalition of Local Committees for a People's World Cup and Olympics claimed that 170,000 people had been forcefully evicted from their homes before the games, despite Brazil's establishment of a Working Group on the Human Right to Adequate Housing.
However, there were also some positive lessons, and the UK was able to work with Brazil to address some of the biggest issues. One focus was around children – ahead of the games, the UK's National Crime Agency (NCA) was able to work with authorities in Brazil to strengthen policies against child sexual exploitation, and monitor and block the entry of convicted paedophiles to the country. The NCA also backed the 'It's a penalty!' initiative led by the NGO Happy Child.
The World Cup brought into focus concerns in the field of disability rights. This was a central part of the UK's engagement with Brazil during the tournament. The UK's Minister for Sport, Tourism and Equalities, Helen Grant, experienced first-hand an audio-descriptive commentary service developed to make football more accessible to the blind. The project was developed by two NGOs: the Centre for Access to Football in Europe (CAFE) and the local Urece organisation for partially sighted and blind people.
The British Embassy in Brasilia supported civil society in raising awareness around human rights concerns and mega sporting events (MSEs). Through the FCO's Human Rights and Democracy Programme, we funded an initiative with IHRB looking at the human rights impacts, and lessons learned, from MSEs. As a result of this project, the web portal megasportingevents.org was launched, with the aim of acting as a forum for MSE hosts to share best practice and improve protection and respect of human rights at every stage of planning and delivery of such events.
Drawing on lessons from the London 2012 Olympics – and the 2014 World Cup – we will continue our "Olympic Dialogue" with Brazil in the run-up to the Olympic and Paralympic Games in Rio in 2016. This should continue to provide lessons and expertise for future MSE hosts.
Published 12 March 2015