Case study
Crimea and separatist-occupied areas of Ukraine
A case study from the 2014 Human Rights and Democracy Report.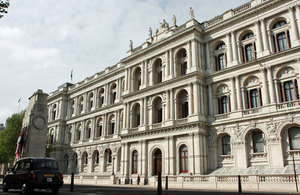 In his recent New Year address to the nation, Ukraine's President, Petro Poroshenko, described 2014 as "the most difficult [year] in the last seven decades since 1945". Political turmoil in Ukraine followed former President Yanukovych's decision to suspend an Association Agreement with the EU in 2013. He fled Ukraine in February 2014, and Russia subsequently illegally annexed Crimea and fomented violent unrest in parts of eastern Ukraine (invaded and now in the control of separatists). This has resulted in the displacement of more than 1.2 million people, and at least 4,800 deaths. There was a significant deterioration in the human rights situation in these regions throughout 2014.
Following the illegal annexation of Crimea by Russia in March, permanent residents with Ukrainian citizenship were required to undergo a process of "declaring intent to maintain Ukrainian citizenship" by 18 April, after which all Ukrainian passport holders residing in Crimea were deemed Russian citizens. Those who refused Russian citizenship were considered foreign migrants with reduced rights. Anyone with Ukrainian loyalist sentiments, such as civil society leaders, routinely had their properties searched, or faced other harassment. Prominent leaders in the Crimean Tatar community were specifically targeted through arrests, restricted gatherings, raids on parliament, or simply banned from the peninsula. At least 18 have disappeared. The FCO Minister for Europe, David Lidington, expressed UK concerns in discussions with the leader of the Crimean Tatars, Mustafa Dzhemilev, on 4 December. He reaffirmed the UK's solidarity with the people of Crimea, and our rejection of Russia's illegal annexation.
The international community called for prompt, effective and adequate investigations into all cases of serious human rights abuses in Crimea. They also called for greater access to the peninsula for international human rights monitoring organisations such as the OSCE.
In separatist-controlled areas of east Ukraine, international organisations closely monitored the human rights situation during 2014. The OHCHR has produced objective monthly reports since March, when a Human Rights Monitoring Mission (HRMMU) was deployed to Ukraine. The final report of 2014 (15 December) set out clearly the total breakdown in law and order in separatist-controlled areas, and how dire the situation was for the populations in these areas; they experienced an increase in killings, torture, abduction for ransom and forced labour, and the regular indiscriminate shelling of built-up areas.
Cases of arbitrary detention and torture were reported on both sides. Other organisations expressed concern at the actions of Ukrainian volunteer battalions, which have been involved in alleged violations, including abductions, unlawful detention and ill-treatment. It is essential that independent investigations take place into all serious allegations of violations or abuses, whether by the Ukrainian military, the Ukrainian volunteer battalions, or the separatists.
The UK has strongly supported international efforts to monitor the human rights situation in these regions. We co-sponsored a resolution at the HRC in June focused on technical assistance for human rights in Ukraine. The resolution called for the protection of human rights in Crimea, and strongly condemned abuses by illegal armed groups.
Published 12 March 2015