Case study
Ebola – human rights in West Africa
A case study from the 2014 Human Rights and Democracy Report.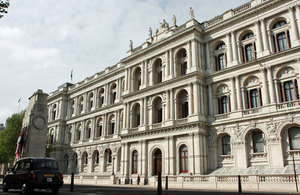 The Ebola outbreak in West Africa has posed unprecedented challenges to governments, civil society, and the international community. Over 20,000 cases of the disease were reported in 2014 across Sierra Leone, Guinea and Liberia, with the threat of an outbreak in a number of other countries. Britain is playing a leading role in Sierra Leone to fight the disease, and has committed over £230 million in responding to Ebola. This is in addition to the UK's significant support to international agencies.
In response to the crisis, governments in Sierra Leone, Guinea and Liberia introduced restrictions to stem the spread of infection. In Sierra Leone emergency measures included: a nationwide ban on public gatherings not related to Ebola sensitisation; restrictions on movement of people and vehicles; quarantine controls; protection of health workers by the police and the military; and surveillance and house-to-house searches to trace and quarantine Ebola victims and suspects. Whilst these measures were proportionate to combat the crisis, and demonstrated a commitment to the rule of law, quarantine has in some cases impacted livelihoods and access to health care. There have also been isolated reports of extortion and excessive use of force by security forces during the enforcement of quarantines. The security forces largely acted in an even-handed and restrained way in implementing the emergency measures. As part of its support to the security forces since the civil war, the UK has provided human rights training.
The arrest of Sierra Leonean journalist, David Tam Baryoh, under the emergency measures for incitement, led to international concern. Amnesty International claimed he was a prisoner of conscience, arrested solely for exercising his right to freedom of expression. Mr Baryoh was released on bail on 14 November after 11 days detained without charge in a maximum security prison. In Liberia, overzealous implementation of controls, such as quarantining, occasionally led to reports of violations, most notably the death of a child shot by security forces. There were also reports of intimidation of journalists, including government threats to close a newspaper.
The Ebola response in each country has demanded an unparalleled public health response, leaving little capacity to address other potentially deadly diseases and conditions; such as malaria, typhoid, dysentery, and childbirth complications. During her visit to Sierra Leone on 16 December, Secretary of State for International Development, Justine Greening, announced a £2.5 million grant for the UN Children's Fund (UNICEF) to support children who have lost family, or whose parents are being treated for Ebola.
The widespread view is that the senatorial elections in Liberia in December were free and fair. Public engagement and turnout was low, partly due to fears about Ebola, but more likely represented apathy and disillusionment with the political process. Guinea is due presidential elections in 2015.
Supporting the fight against Ebola has been the UK's top priority in each of the three countries. Nonetheless, the UK government has been able to continue to support a number of important programmes to promote human rights priorities, including the prevention of sexual violence.
Published 12 March 2015