Case study
Freedom of expression in China
A case study from the 2014 Human Rights and Democracy Report.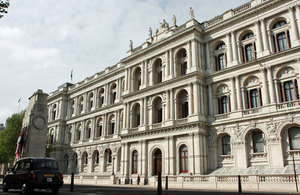 The climate for freedom of expression in China continued to be difficult in 2014. There were tightened controls over the activities of many HRDs attempting to express their opinion peacefully in accordance with the Chinese Constitution. This despite an ostensible focus on promoting the rule of law and protecting human rights by 2020, as announced by President Xi at the Fourth Plenum of the Communist Party of China Congress in October. The detention of several prominent dissidents and lawyers has coincided with a nationwide anti-corruption campaign, which began in 2013. As well as the prominent work of HRDs and rights lawyers, there continue to be thousands of local, largely unreported public protests and demonstrations throughout China every year, mainly focused on socio-economic grievances and the impact of pollution.
Episodes of cyclical tightening of the space for freedom of expression and HRDs were evident throughout the year, encompassing large-scale detentions on the mainland. These often coincided with sensitive days and events, such as the 25th anniversary of the violent suppression of popular protests, and democracy protests in Hong Kong. An increasing number of those detained have been charged with the ambiguous crimes of "picking quarrels and causing trouble" and "involvement in illegal business activities". Legal protections guaranteed under the revised Criminal Procedure Law, which entered into force in 2013, are not being applied universally, including reports of detainees being denied access to lawyers.
Restrictions on freedom of expression were also apparent in the media sphere. New legislation from 2013 has been used to prosecute bloggers for spreading "gossip". The BBC and many other foreign websites have been blocked, especially during sensitive periods such as the Hong Kong protests. In December, Google joined the list of international social networking and filesharing services blocked in China, alongside Facebook, Twitter and You Tube.
The Chinese government's focus on the rule of law is encouraging. The task ahead is ensuring that this principle is universally applied in accordance with international norms, including respect for human rights. The UK continues to work in partnership with China on a variety of projects in this field, and uses the annual UK-China Human Rights Dialogue, bilateral representations, and international fora to discuss freedom of expression.
Published 12 March 2015