The Girl Summit – ending female genital mutilation and child, early and forced marriage
A case study from the 2014 Human Rights and Democracy Report.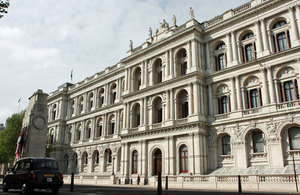 Female genital mutilation (FGM) and child, early and forced marriage (CEFM) harm girls profoundly and permanently, denying them their right to make their own decisions and to reach their full potential.
FGM causes pain, risks in childbirth and emotional and psychological harm. Child marriage leads to early childbearing, which increases the likelihood of complications and death during childbirth. It also disrupts girls' education and exposes them to an increased likelihood of domestic violence.
Worldwide, more than 250 million women alive today were married before their 15th birthday, and over 125 million women currently live with the consequences of FGM.
The good news is that things are changing. This year, the UK supported strong, consensus UN resolutions on FGM and CEFM. The UK's Forced Marriage Unit, a joint FCO and Home Office unit, continues to provide support and assistance to victims of forced marriage. And in the heart of communities in the UK, Africa, South Asia, the Middle East and Europe, more and more people are saying no to these practices. There is also a growing African-led movement to end FGM and child marriage, with religious leaders, politicians and First Ladies speaking out. Our role is to support and accelerate these efforts.
It was in this spirit that, on 22 July, the Prime Minister hosted over 650 participants from 50 countries at the Girl Summit, the first ever global summit on ending FGM and CEFM, at London's Walworth Academy.
At the summit, the Prime Minister said that the event represented "the start of a global movement". Nobel Peace Prize winner Malala Yousafzai called on world leaders not to be "followers of those traditions that go against human rights". She stressed that "we are human beings and we make the traditions". This was echoed by government and civil society representatives who pledged to change laws and attitudes in equal measure, as exemplified by Ethiopia's commitment to eradicate FGM and CEFM totally by 2025.
To date, 480 organisations and individuals (including 42 governments) have signed the Girl Summit Charter, which sets out specific actions to end FGM and CEFM. Over 170 specific commitments have been made by a range of government and civil society actors, and more than $90 million has been pledged to end these practices. Satellite events were held in Kenya, the US, Uganda, Zimbabwe, India and Guinea-Bissau. The UK also hosted #YouthForChange on 19 July, an event to inspire young people to act on girls' rights.
UK ambassadors and diplomatic staff in over 70 of our embassies and high commissions worked in close partnership with Department for International Development officials to ensure governments came to the summit prepared to make these commitments, that they were represented by senior ministers, and that as many key countries as possible signed the charter.
The FCO remains committed to building on the summit's success. We will continue to lobby states to sign the charter, and make further commitments to end FGM and CEFM that will prevent hundreds of millions more being robbed of their childhood and stripped of their rights.
Published 12 March 2015