Case study
Elections in Tunisia
A case study from the 2014 Human Rights and Democracy Report.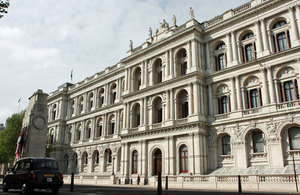 Tunisia's popular uprising in 2010 sparked revolutions across the Arab world. In December 2014, it became the first "Arab Spring" country to complete its transition to democracy by holding its first full-term parliamentary election since the revolution, and its first ever democratic presidential election. The manner in which it completed the transition, through inclusive dialogue and consensus, has made it a model for sustainable democracy in the region.
Considerable hurdles were overcome. In 2013, transition teetered on the brink, with polarisation and prolonged political stalemate following two political assassinations and a rise in terrorist attacks. It was saved by a national dialogue led by the "quartet" of key civil society associations (employers, trade unions, lawyers and human rights groups), which engaged political parties across the spectrum, and agreed a "road map", setting a schedule for future action.
In January 2014, the elected government agreed to resign. It was replaced by a technocratic administration as soon as the new constitution, the most progressive in the region, was approved by resounding majority. In May, a new Electoral Law was adopted, paving the way for parliamentary and presidential elections before the end of 2014, in accordance with the constitution. Parliamentary and two rounds of presidential elections took place between October and December, with turnout exceeding 60% in all three polls.
In response to security threats, the government deployed additional security at polling stations, and the elections passed peacefully. The electoral process was overseen by an independent electoral body, ISIE, which set standards, received complaints, and referred infringements to the courts as it considered necessary. It was praised for its professionalism, independence and impartiality throughout the process by international observers, who also judged the elections to have been free, fair, and transparent.
The former governing party conceded to the winner of the parliamentary elections before the results were formally declared, enabling a peaceful handover of power. Some minor protests followed the declaration of the preliminary result of the presidential election, but subsided when the losing candidate called for calm. Among the challenges for the new administration will be the need to prove that it represents all Tunisians; to entrench hard-won human rights standards while tackling the threat of extremism; and to deliver economic reform to address the economic grievances which, in part, inspired the revolution.
Since 2011, the UK has supported Tunisia's transition, both bilaterally through the Arab Partnership Programme, and multilaterally through international financial institutions, the EU, and the G8. In 2014, UK-funded projects strengthened the electoral process, supported the monitoring of campaign finance, helped to improve the skills, effectiveness and accountability of members of the Constituent Assembly, and worked with civil society organisations to promote the importance of elections and of political participation.
Published 12 March 2015