Case study
The Ukraine Forum on Asset Recovery (UFAR)
A case study from the 2014 Human Rights and Democracy Report.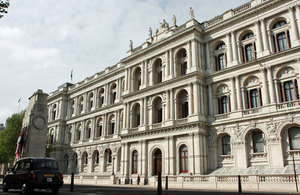 The governments of the UK and United States, in support of the efforts of the government of Ukraine, and to maximise international cooperation, convened the Ukraine Forum on Asset Recovery (UFAR), in London on 29-30 April, 2014. The forum brought together a range of international partners from over thirty countries and territories around the world, as well several international organisations – including the invaluable support of the Stolen Asset Recovery initiative (StAR) of the World Bank and the UN Office on Drugs and Crime.
The objective of UFAR was to facilitate international cooperation for the early freezing, tracing and ultimate recovery of stolen assets, in support of the government of Ukraine. Senior government officials alongside policy makers, judicial experts, law enforcement officers, prosecutors, financial intelligence analysts, and regulators participated in UFAR. Bilateral meetings between Ukrainian officials and other delegations were an important feature of UFAR in helping to identify concrete actions necessary to advance asset recovery efforts. The forum was conducted in a spirit of openness, collaboration, mutual respect, and urgent resolve.
Participants agreed that successful asset recovery cases are complex and take time, no matter how high the political will among nations. However, discussion over the two days recognised that progress already had been made as a result of the forum's work, both in its preparation and during the meetings. Technical assistance is ongoing and continues to be available to assist Ukraine in efforts to recover the proceeds of corruption, and this critical work continues as a sign of the enduring partnership between participating countries and those who continue to support the political transition in Ukraine.
Published 12 March 2015