Case study
Military coup in Thailand
A case study from the 2014 Human Rights and Democracy Report.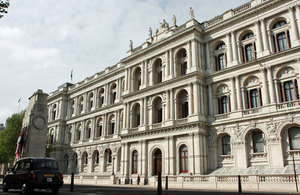 The May 2014 coup was the 19th since 1932; the last being in 2006. The military maintain that it was necessary to preserve national security, following months of anti-government protests. Most international observers disagree, noting that the security situation in Thailand was not severe enough to justify dissolving the constitution and imposing martial law.Since the May imposition of martial law, severe restrictions have been placed on freedom of speech and assembly, as well as other human rights. Within the first two months of the coup, the military authorities summoned and arbitrarily detained around 700 individuals (former government ministers, journalists, political activists), banned gatherings of more than five people, and announced their intention to pursue aggressively cases of alleged criticism of the monarchy (lèse majesté).
The limitations on freedom of speech and the zealous, often retrospective use of lèse majesté laws, are of particular concern, resulting in the censoring (and self-censoring) of the media,NGOs, academic institutions, and political opposition. Many from within these groups assert that the situation regarding freedom of expression and assembly is worse than during previous periods of military rule in Thailand. Restrictions on these fundamental human rights compromise the integrity of the national reform process being pursued by coup leader Prime Minister Prayuth's military dominated government.
This government has laid out a roadmap for a return to democracy but, for a democracy to be genuine, it must be inclusive. By placing restrictions on whom can discuss Thailand's political future and limiting the scope of the debate, any reform of the political system cannot be said to reflect the will of the Thai people as a whole. With a number of constitutional issues still to resolve, many observers are not convinced of Prime Minister Prayuth's commitment to honour the pledge outlined in the government's roadmap to hold elections before the end of 2015. In the immediate aftermath of the coup, the UK and the international community made its disapproval of the military junta's actions clear through bilateral and multilateral statements, publicly setting out our concerns and pressing for a swift return to democratic rule. We continue to raise these concerns bilaterally with the Thai authorities. Along with EU counterparts, we have reconsidered our engagement with Thailand, and adopted a principled but pragmatic approach, which limits bilateral ministerial contact.
The effects of this coup have been significant, and most observers agree that human rights in Thailand have gone backwards as the military has extended its control. Although in absolute terms the human rights situation in neighbouring countries remains of greater concern, it is disappointing to see Thailand's record deteriorate as other countries in the region make progress in a positive direction. As a strong Asian economy and an influential regional actor, Thailand's democratic health has significance beyond its own borders. For Thailand truly to flourish and become a respected and active player in the global community, it must abide by its international commitments, including on human rights.
Published 12 March 2015