Case study
School detention: managing poor behaviour
How St Gregory's Catholic Science College uses weekend detentions to deter poor behaviour.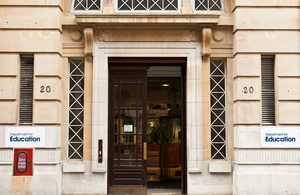 St Gregory's Catholic Science College (Harrow) is a larger than average, inner-city London comprehensive for 11- to 18-year-olds. The school has a high proportion of pupils from ethnic minorities and the percentage of pupils eligible for the pupil premium is above average. In October 2013, the school was rated by Ofsted as 'outstanding' in behaviour.
Saturday detentions
This school uses Saturday morning detentions as a sanction for poor behaviour. When this was first introduced they took place approximately every 3 weeks. Now there is a half-termly rota for senior staff to supervise the detentions, but numbers have fallen and Saturday detentions now happen approximately twice a term. This is an effective deterrent because pupils are required to come into school on a non-school day and have the inconvenience of wearing their school uniform on their journey to and from the school on Saturday.
Visibility of senior staff
To help manage behaviour, the school ensures that the headteacher and senior staff are visible to pupils and other staff. At a different time every day the headteacher walks around the school and visits each classroom. This visit provides the opportunity for teachers to highlight good work, and if necessary flag inappropriate behaviour. The headteacher is able to manage the behaviour immediately after it occurs.
Published 25 March 2014