Case study
Norton Motorcycles – riding the road to exporting success
Norton Motorcycles is selling its iconic motorcycles around the world with the support of a tailored financing model from UKEF and Santander.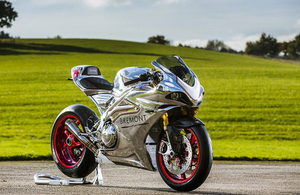 Working capital needed to help expand
As a UK heritage brand, Norton Motorcycles' sales are strong in markets like Australia, USA, Canada, Japan and Europe, but new distribution partnerships in China and India will grow its presence in Asian markets too.
Financing this success has been a challenge. Norton's distribution network expects credit terms when they take deliveries while Norton needs working capital to finance the manufacture of the motorcycles.
Government-backed growth
By working with UK Export Finance (UKEF), Norton Motorcycles has found a solution. UKEF and Norton's bank, Santander, have provided a rolling working capital facility to support an invoice finance model meaning that Norton is able to borrow against its receivables with a government guarantee to free up the financing.
This financing model has helped Norton grow its business in key markets like Australia, Japan and the USA – offering their customers the competitive credit terms with government-backed finance to support its working capital.
Stuart Garner, CEO of Norton Motorcycles, said
Overseas sales are a hugely important part of Norton's business and our growth plans for the future. The bespoke support we have received from UK Export Finance has meant that we can realise our ambitions secure in the knowledge that our finance matches our plans.
In recognition of Norton's international success, Stuart is now an Export Champion for the East Midlands and Norton Motorcycles has recently launched an ambitious apprenticeship programme.
Tony Petersen, Export Finance Manager for the East Midlands, said
Norton Motorcycles is a great example of an iconic British brand, for which there is huge demand abroad, realising its international potential and giving back to the community.
About Norton Motorcycles
Founded in 1898, and with its first motorcycle sold in 1902, Norton Motorcycles has been an iconic British brand for nearly 120 years. In the early 1990s it ran into difficulties and the rights to the brand were sold on.
Its current owner, Stuart Garner acquired the global brand and rights in 2008, re-established the company's UK manufacturing base and delivered the company's first motorcycle of the new millennium in 2010.
Norton Motorcycles sells around 1,000 motorcycles a year all over the world, employs 120 staff in the UK and has forecast sales of £20 million for 2017.
More information
New business enquiries
Email: customer.service@ukexportfinance.gov.uk

Telephone: 020 7271 8010

Published 17 October 2017