Case study
Ford UK rallies partners and suppliers to cut vehicle emissions
Innovate UK funding supports multi-partner collaborations between major manufacturers, SMEs and universities to develop new technologies.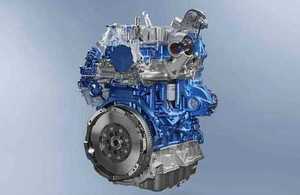 Ford Motor Company's latest EcoBlue 2.0 L diesel engine is rolling off the Dagenham production lines at a rate of 800,000 units a year, benefiting from technologies that originated in Innovate UK-funded projects.
These engines already power Ford's Transit commercial vehicles and the EcoBlue range will also extend to the company's cars.
Ford created a dedicated team of specialist engineers at its Dunton Technical Centre in Essex to make the most of opportunities for collaborative R&D activity in the UK.
Since Innovate UK established its Low Carbon Vehicles Innovation Platform (LCV IP) in 2007 Ford has taken part in 14 LCV IP projects. It has involved working with over 50 UK partners including more than 20 small and medium-sized businesses, often for the first time.
Technically risky projects
David Skipp manager of Research & Advanced Engineering at Ford Motor Company, said:
The collaborative nature of Innovate UK projects is an excellent stimulus to work in close partnership over several years with dynamic, innovative small businesses in the UK.
The Innovate UK R&D framework also provides a stable and effective platform for global manufacturers like us to work with small companies and academia on technically risky projects that benefit everyone.
The projects undertaken at Dunton with backing from Innovate UK have focused on Ford's ultra-low CO2 technologies for petrol and diesel engines and, more recently, on reducing weight.
After early evaluation through an Innovate UK-funded project, Ford has developed a new Variable Flow Oil Pump that now features on the majority of its cars and commercial vehicles. It helps the engine achieve better CO2 emissions than with a conventional oil pump.
Ford has also been able to apply advanced modelling tools and techniques developed within a 'CO2 emissions reduction through optimisation' (CREO) project that enabled the company to reduce engine calibration optimisation time.
Advanced modelling tools
The aim of the 3-year, £7.2 million CREO project was to improve and optimise the engine and exhaust after-treatment.
It was a collaboration with the Universities of Liverpool, Birmingham and Bradford, along with two SMEs, Revolve Technologies and Cambustion Ltd, and Jaguar Land Rover and ITM Power PLC. Innovate UK provided grant funding of £3.6m to Ford and its partners. Skipp added:
Compared with our previous emissions optimisation development processes at Ford, the CREO process yielded a significant CO2 benefit and approximately one month's saving in process efficiency.
That provided us with a huge productivity boost. The lessons learned from the CREO process have been adopted on all suitable product development programmes at Ford Dunton.
Improving air quality in cities
In January 2017, Ford announced that a number of its plug-in hybrid (PHEV) Ford Transit Custom vans will be trialled in London from autumn 2017. The £4.7 million project is supported by the Department for Business, Energy and Industrial Strategy (BEIS) via the Advanced Propulsion Centre (APC) and funding from industry.
The programme will see a collaboration between Ford, Prodrive Advanced Technology and Revolve Technologies, and is an important step in improving air quality in major cities.
The vehicle, which has been developed at Ford's Dunton technical centre and Prodrive Advanced Technology's facility in Banbury, offers zero emissions driving in cities with the added flexibility of an efficient combustion engine for longer journeys.
It is one of 20 projects that have been funded by BEIS via the Advanced Propulsion Centre and in partnership with Innovate UK since April 2014 to make the UK a global centre of excellence for low carbon powertrain development and production.
Published 6 September 2017