Case study
5G Smart Tourism
Using technology to offer tourists new experiences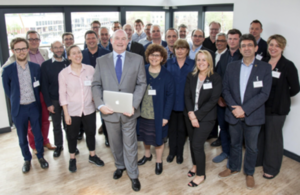 Lead organisation: West of England Combined Authority
Grant: £5.0m
This testbed will focus on delivering enhanced experiences for tourists using Augmented Reality (AR) and Virtual Reality (VR), 3d motion tracking, and 4k 360° content streaming technology, in major attractions in Bath and Bristol, including the Roman Baths and Millennium Square.
Content and technology developments will be provided by a range of partners from this large collaboration, including organisations that are at the forefront of 5G advances. It will demonstrate self-provision of 5G and Wi-Fi and innovative mmWave backhaul, and will also address safety issues by providing emergency service capacity through network slicing.
Tim Bowles, West of England Mayor said:
Imagine a virtual Roman soldier showing you around the Roman Baths, now imagine this moving 360 degrees on your mobile phone at a resolution you have never experienced before - that's what 5G technology can offer.

The 5G Smart Tourism bid will allow us to trial some exciting technology at our top tourist attractions, whilst looking at wider and longer-term benefits for our region. This new technology holds the key to a more advanced, sustainable and smart future which will revolutionise the way we all live, travel and work.
Professor Graham Thomas of BBC Research & Development said:
Delivering new kinds of experiences in new ways for our audiences is a priority for the BBC. This project is an excellent way to trial ways of doing this using AR and VR technology through 5G.
Published 23 July 2018