Foreign travel advice
Democratic Republic of Congo
Summary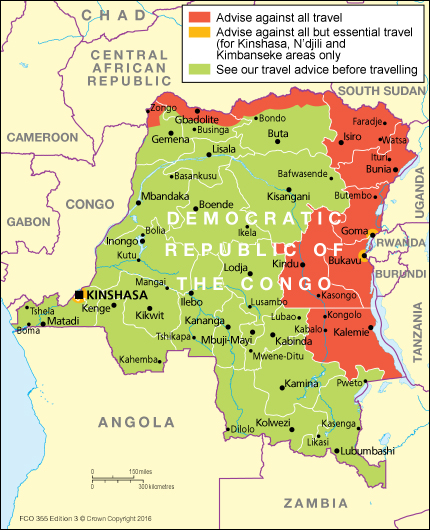 The Foreign and Commonwealth Office (FCO) advise against all travel to the provinces of Haut-Uele, Haut Lomami, Ituri, North Kivu, South Kivu, Maniema and Tanganyika, and to within 50km of the border with the Central African Republic and South Sudan.
The FCO advise against all but essential travel to the cities of Goma and Bukavu and to the districts of N'djili and Kimbanseke in Kinshasa.
Political opposition groups are planning marches in Kinshasa on Sunday 31 July. You should be extra vigilant if you're travelling around the city on this day, including travel to and from N'djili airport, follow local security advice and continue to avoid large crowds or demonstrations.
Demonstrations can quickly turn violent in the DRC. In May and June 2016 several protests in Kinshasa, Lubumbashi and Goma turned violent. In January 2015 troops were deployed to the streets to maintain order during violent demonstrations in response to an electoral reform bill being considered by parliament. Many schools, shops and businesses were closed and movement around the city was restricted.
Credible reports indicate that between 5 and 30 people were killed as a result of the violence, including 2 members of the police. There were also reports of violent demonstrations, looting and general unrest in other areas of the country, including in Goma, Bukavu, Mbandaka, Lubumbashi and Bas-Congo.
On 2 June 2015 small arms and heavy weapons fire was heard across the city of Goma. Reports indicate that most of the gunfire was related to an incident at a military base at the airport, but there were also shots fired in the city centre and at a vegetable market close to the airport. You should remain vigilant at all times.
During periods of potential unrest remain vigilant, listen to local media and monitor the situation closely. Take extra care at night. Avoid unnecessary journeys and stay away from areas where demonstrations are likely to take place, particularly the area around the parliament in Kinshasa. Protests may quickly turn violent without warning. Commercial flights may be suspended and borders closed.
The security situation in eastern DRC remains unstable. While British staff do visit Goma, there are not always British staff in the area, and our ability to offer consular assistance is therefore severely limited. In 2015 there has been a series of kidnappings in North Kivu in the area around Goma in addition to military operations against armed groups.
The lack of infrastructure throughout the country and continued insecurity in eastern DRC may prevent the British Embassy in Kinshasa from being able to extend normal levels of consular assistance to British nationals anywhere in the DRC other than Kinshasa.
Street crime and robbery, including by individuals posing as plain clothes police, is common. Beware of gangs promising you cut price gold and diamonds. International non-governmental organisations in Kinshasa and Goma have been targeted. See Crime
Keep a low profile and avoid any large crowds and demonstrations. Stay alert to local political developments. See Political situation
There is a low threat from terrorism. See Terrorism
Take out comprehensive travel and medical insurance before you travel.