What to do after a calf is born
Cattle keepers must tag newborn calves, apply for passports and enter the correct details in the holding register.
When a calf is born, the keeper must comply with the cattle identification regulations, which include:
What tags to use
Each animal needs one primary and one secondary ear tag, both showing the same unique individual identification number.
The primary tag must be a yellow plastic distance-readable flag tag. It can go in either ear.
Each part of the primary tag shall only contain the information detailed below:
the Crown logo
the country code ('UK')
the herd mark
a six-digit individual animal number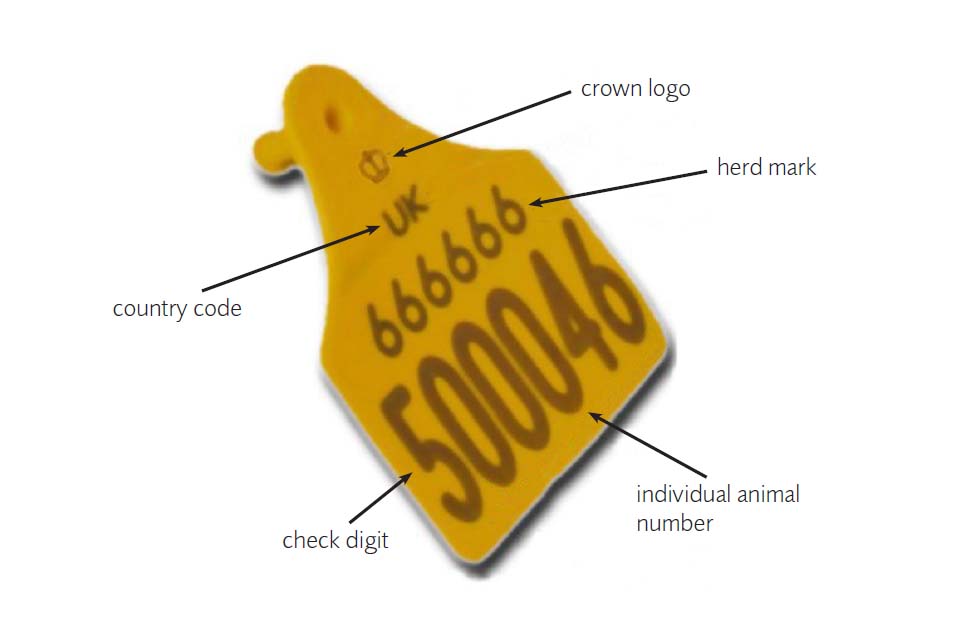 The secondary tag must be in the other ear. It must have the same information as the primary tag, but may also contain management information. If you add extra management information, it should not affect or confuse the official identification information on the tag.
Secondary tags do not have to be the same as primary tags: they can be made of metal or plastic, and of a different size or style.
When to tag newborn animals and apply for cattle passports
You cannot move a calf off a holding without the correct ear tags in place and without a passport (except in exceptional circumstances on welfare grounds, in which case you must apply for a movement licence by contacting BCMS).
Note that you do not have to apply both tags at the same time and you can choose whether to fit the primary or the secondary tag first.
| Calf type | Deadline for fitting first tag | Deadline for fitting second tag | Deadline for getting passport application to BCMS |
| --- | --- | --- | --- |
| dairy | within 36 hours of birth | up to 20 days from birth | within 27 days of birth |
| beef | up to 20 days from birth | up to 20 days from birth | within 27 days of birth |
| bison | within 9 months of birth, or before weaning, whichever is sooner | within 9 months of birth, or before weaning, whichever is sooner | within 7 days of birth |
If an untagged animal dies before these deadlines you do not need to tag it, but you must record its date of birth and date of death against the dam number in your holding register.
Cattle for cultural and historical use
If you keep cattle on a holding that is registered for cultural and historical use (except for fairs and exhibitions), you may be permitted to use an electronic identifier in the form of a bolus instead of ear tags. Contact BCMS for advice.
You should take care when handling cattle at all times, including when applying ear tags. You should ensure you have sufficiently safe handling facilities to undertake tagging within the statutory requirements.
The Health and Safety Executive's publication 'Handling and housing cattle' can help you, as can the cattle welfare codes for England, Scotland and Wales.
Contact BCMS (details below) immediately if you have problems with tagging your cattle.
What to enter in your holding register
You should record the newborn calf's:
ear tag number
date of birth
sex
breed
birth dam's ear tag number
sire's ear tag number (if known)
Contact
British Cattle Movement Service
Curwen Road
Derwent Howe
Workington
Cumbria
CA14 2DD
Normal BCMS helpline opening hours: Monday to Friday 8:30am to 5pm, closed weekends and bank holidays. All calls charged at local rate.